Between Gestures: Notes on Agency, Dance in the Museum Panel Discussion
Featured images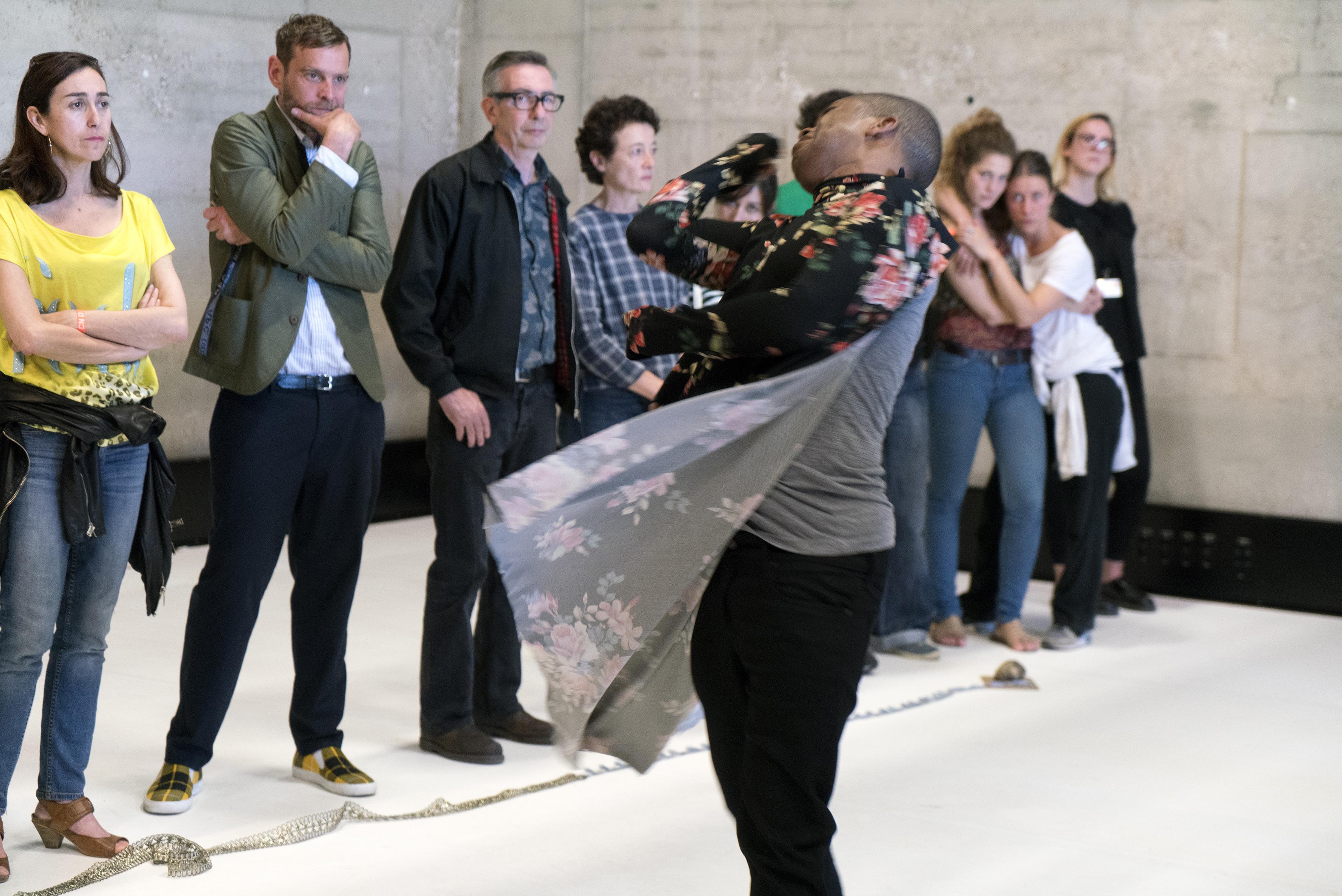 Program Description
A panel of curators and scholars including Elisabeth Lebovici, Mlondi Zondi, January Parkos Arnall, and Hendrik Folkerts as moderator collectively envision next steps for dance in the museum, a widely discussed and visible practice in 21st century museum curation. Often the work of choreographers and dancers in gallery and museum spaces is focused on particular forms of dance, rooted in the American and European neo-avant-gardes of the 1960s–70s and 1990s, and the panel will reflect on how "dance in the museum" might become a more inclusive and encompassing practice. Lebovici is an art historian and critic; Zondi is a performer and PhD candidate in Performance Studies; Parkos Arnall is a curator at the MCA; and Folkerts is the Dittmer Curator of Contemporary Art at the Art Institute of Chicago.
Panelists will address questions around merging paradigms of display, spectatorship, and materiality, and how to discuss the notion of "agency" in more detailed terms. Some questions they'll discuss are below:
* What are the limits and conditions of artistic agency in relation to the museum?
* What agency is held by the performers both in relation to the artist-choreographer and as bodies moving in what is at times an unaccommodating space?
What is the agency of the audience as both spectator and participant?
This program is part of Between Gestures, a one-week festival connecting Chicago to international contemporary performance and dance through performances, workshops, conversations, and screenings, proposed by the Cultural Service of the Consulate of France in Chicago and the Goethe Institut Chicago.
About the Speakers
Hendrik Folkerts

Hendrik Folkerts, Moderator, is the Dittmer Curator of Contemporary Art at the Art Institute of Chicago. He studied art history at the University of Amsterdam, specializing in contemporary art and theory, feminist practices, and contemporary curatorial practices. Prior to his position at the Art Institute of Chicago, Folkerts was curator at documenta 14 from 2014 until 2017. From 2010 until 2015, he was Curator of Performance, Film & Discursive Programmes at the Stedelijk Museum in Amsterdam and coordinator of the Curatorial Programme at De Appel arts centre in Amsterdam from 2009 until 2011.
Elisabeth Lebovici

Elisabeth Lebovici has been the chief editor of Beaux-arts Magazine and, for the last 15 years, an arts and culture editor for the daily newspaper Libération. Since 2006, she has written the blog Le Beau Vice. An AIDS activist, Lebovici was the inaugural president of the Paris LGBT film festival and is currently a founding member of the LIG—Lesbians of General Interest—fund. Since the 1990s, she has been involved in writing and lecturing on feminism, activism, queer politics, and contemporary art. In 1998, she editedL'Intime(Paris, ensb-a). Together with Catherine Gonnard, she authored a history of women artists in France between 1880 and now calledFemmes/artistes, Artistes/femmes, Paris de 1880 à nos jours(Paris, Hazan, 2007). She and Gonnard are currently involved in research on lesbian culture in the francophone media in the 1950s–1960s. Her latest book isWhat AIDS Has Done To Me: Art and Activism at the End of the 20th Century (Ce que le sida m'a fait—Art et Activisme à la fin du 20è siècle) received the Prix Pierre Daix in art history in 2017. Lebovici cocurates, with Patricia Falguières and Natasa Petresin-Bachelez, a weekly seminar at the Ecole des Hautes Etudes en Sciences Sociales (EHESS) in Paris titled Something You Should Know: Artists and Producers. Lebovici holds a PhD in aesthetics.
January Parkos Arnall

January Parkos Arnall is curator of Public Programs at the Museum of Contemporary Art Chicago. She holds a PhD in cultural studies and museum theory from Claremont Graduate University, an MFA in photography with emphasis in art history from Temple University, and a BFA in fine art from the School of the Art Institute of Chicago. From 2013 until 2017, she oversaw public engagement, developed exhibition-related programs, and was on the curatorial team for exhibitions and residencies at the Hammer Museum in Los Angeles.
Mlondi Zondi

Mlondi Zondi, PhD candidate in performance studies at Northwestern University. Mlondolozi "Mlondi" Zondi is a movement artist with an interest in dance dramaturgy, curatorial practice, and pedagogy. Zondi's dissertation focuses on contemporary Black performance and visual art engagements with death and corporeal integrity. Using Afro-Pessimism and other aspects of the Black radical tradition, the research probes the relationship between Black ontology and the ontology of performance. Zondi received an MFA in dance from the University of California, Irvine and a BA (Hons) in cultural studies and performance studies from the University of Kwa-Zulu Natal.
---
Between Gestures is a program supported by the Cultural services of the French Embassy in the US, the Goethe Institut, the Franco-German Cultural Fund, FACE in Chicago and the Friends of the Goethe.