Between Gestures: Trajal Harrell and Ola Maciejewska
Images of Macijewska's Work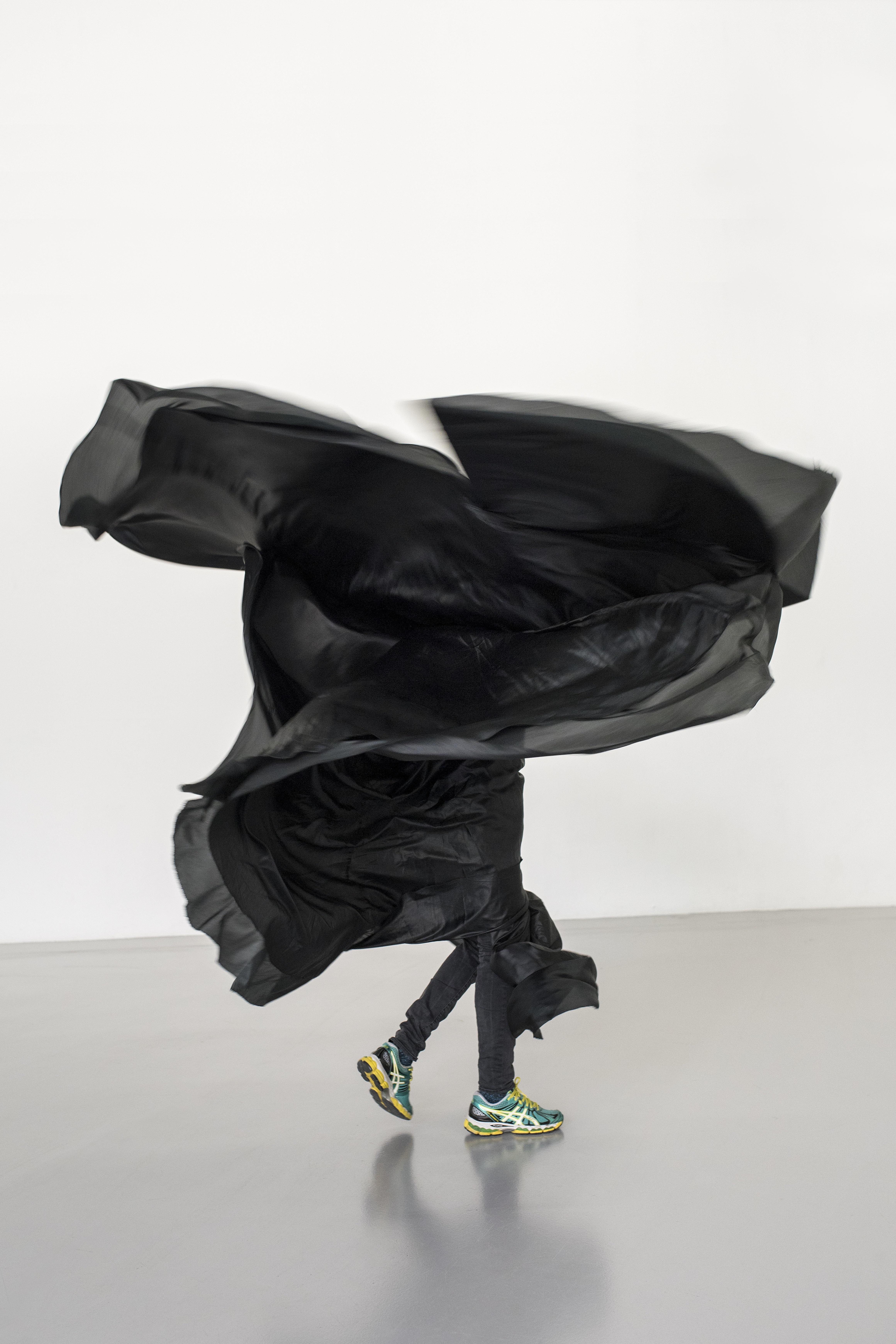 Images of Tajal Harrell's Work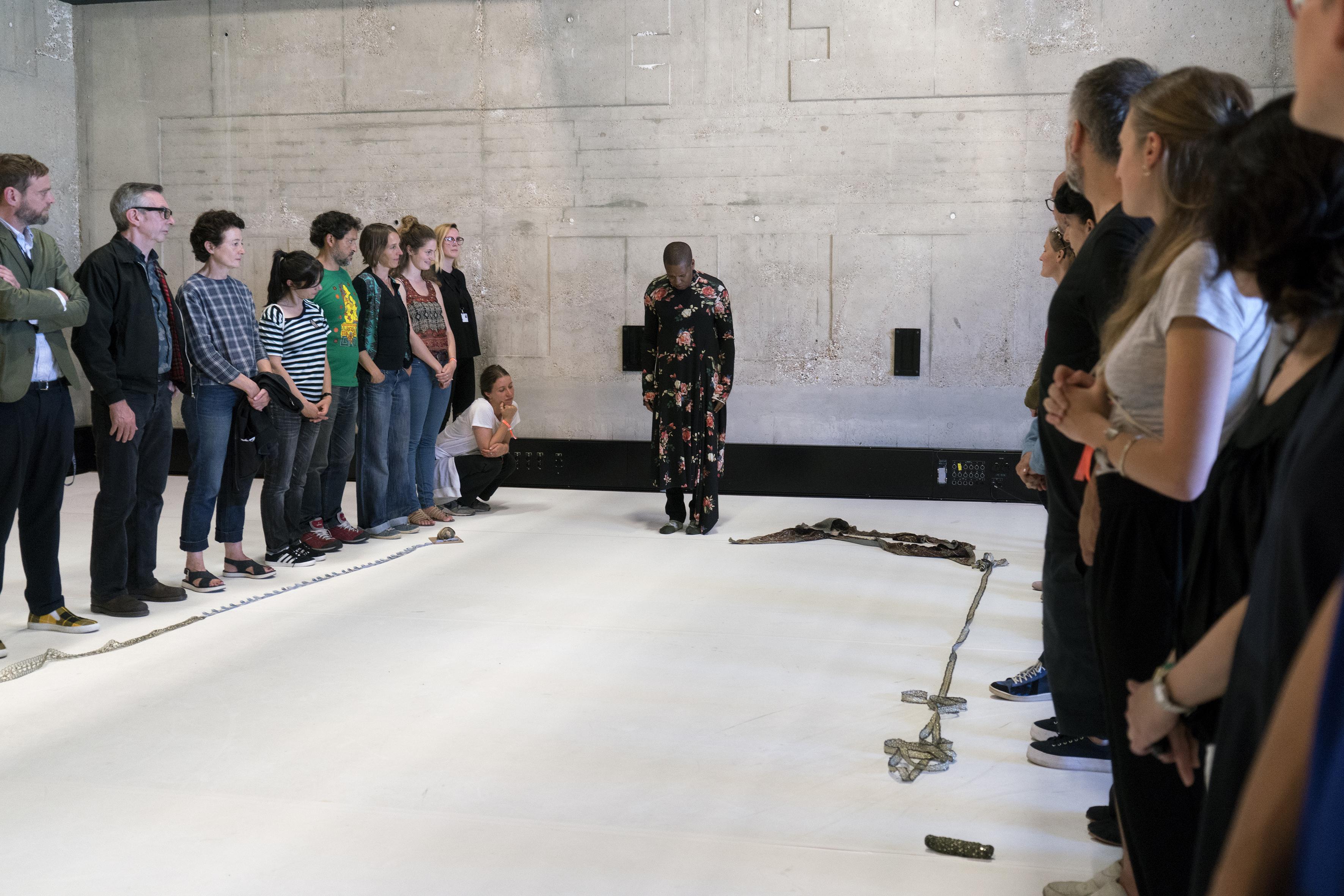 ---
Two solo pieces, by choreographers Trajal Harrell and Ola Maciejewska, unfold over an afternoon in the museum's public spaces. Each artist approaches performances of the past through their own physical practices and philosophical perspectives in the present, to intervene into dance history—and into the white walls of the museum itself.
Additonally, selections from the Nouvelle Cinémathèque de la Danse screen in the Commons over the course of the day featuring a program of rare performance clips that resonate with thematic and historical threads presented in the on-site performances.
This program is a part of Between Gestures, a one-week festival connecting Chicago to international contemporary performance and dance through performances, workshops, conversations, and screenings, proposed by the Cultural Service of the Consulate of France in Chicago and the Goethe Institut Chicago.
Ola Maciejewska's LOIE FULLER: Research considers the agency of objects and actions, and reflects on the relationship between sculptor and sculpture. Human movement sculpts matter into form in this sparse performance based on the works of Loïe Fuller, often regarded to be a precursor to American modern dance.
Trajal Harrell's Okidoki is the latest solo in his series of works made for gallery spaces that interrogate the cracks and fissures of history. It emerges from his research into runway movement as a dance vocabulary that proposes a theoretical conversation between postmodern dance, voguing, and Japanese butoh.
"Through Maciejewska's eyes we see a wickedly beautiful future, a dark, precise, and sensory post-humanism in which a networked sociality and energetics move vitally between organisms of all sorts."
"Mr. Harrell [is] a choreographer with enough design sensibility to breathe new life into history."
About the Artists
Born in Poland and currently based in Paris, Ola Maciejewska is a choreographer and performer. In 2012 she obtained her MA in contemporary theatre and dance studies at the University of Utrecht. While still in school, Maciejewska created LOIE FULLER: Research(2011) which has since been presented for the opening of the Centre National de la Danse in Pantin, France in 2015, as well as in Switzerland, Spain, Canada, Poland, Portugal and several venues in Holland. In fall of 2015, Maciejewska premiered BOMBYX MORI in Paris at Ménagerie de Verre as a part of the Festival Les Inaccoutumés. It toured abroad to venues including Kaaitheater, Theater Rotterdam Schouwburg, Veem House for Performance, Serralves Museum, ImPulsTanz in Vienna. BOMBYX MORI is supported by the Fondation d'entreprise Hermès as a part of their New Settings programme. Between 2016 and 2018, Maciejewska was the associated artist of centre chorégraphique national de Caen en Normandie. In fall of 2017, her solo work LOIE FULLER: Research and dance film, COSMOPOL, were presented at la Lyon Biennial. Her latest work DANCE CONCERT premiered at the National Taichung Theater in Taiwan and was later presented at the Festival d'Automne à Paris in France.
Trajal Harrell came to visibility with the Twenty Looks or Paris is Burning at The Judson Church series of works, which theoretically juxtaposes voguing with early postmodern dance traditions. He is now considered one of the most important choreographers of his generation, and his work has been presented in many US and international venues. In 2016, Harrell completed a two-year Annenberg Residency at MoMA during which he turned his attention to the work of the Japanese founder of butoh dance, Tatsumi Hijikata. By looking at butoh through voguing's theoretical lens of "realness" and modern dance through the theoretical lens of butoh, Harrell is creating a number of works that combine a speculative view of history and the archive with contemporary dance practice and composition. He has created Used Abused and Hung Out to Dry, premiered and commissioned by MoMA in February 2013; The Ghost of Montpellier Meets the Samurai, premiered at Montpellier Danse Festival 2015; The Return of La Argentina, premiered at the Paris Centre National de la Danse and commissioned by MoMA; In the Mood for Frankie, premiered in May 2016 at MoMA; Caen Amour, premiered at Festival Avignon 2016; and Juliet and Romeo, produced by Munich Kammerspiele. Hoochie Koochie is Harrell's first survey (1999–2016) and performance exhibition presented by the Barbican Centre Art Gallery in London, July–August 2017.
Funding
Between Gestures is a program supported by the Cultural services of the French Embassy in the US, the Goethe Institut, the Franco-German Cultural Fund, FACE in Chicago and the Friends of the Goethe.