Dahlak Brathwaite, Try/Step/Trip
Featured images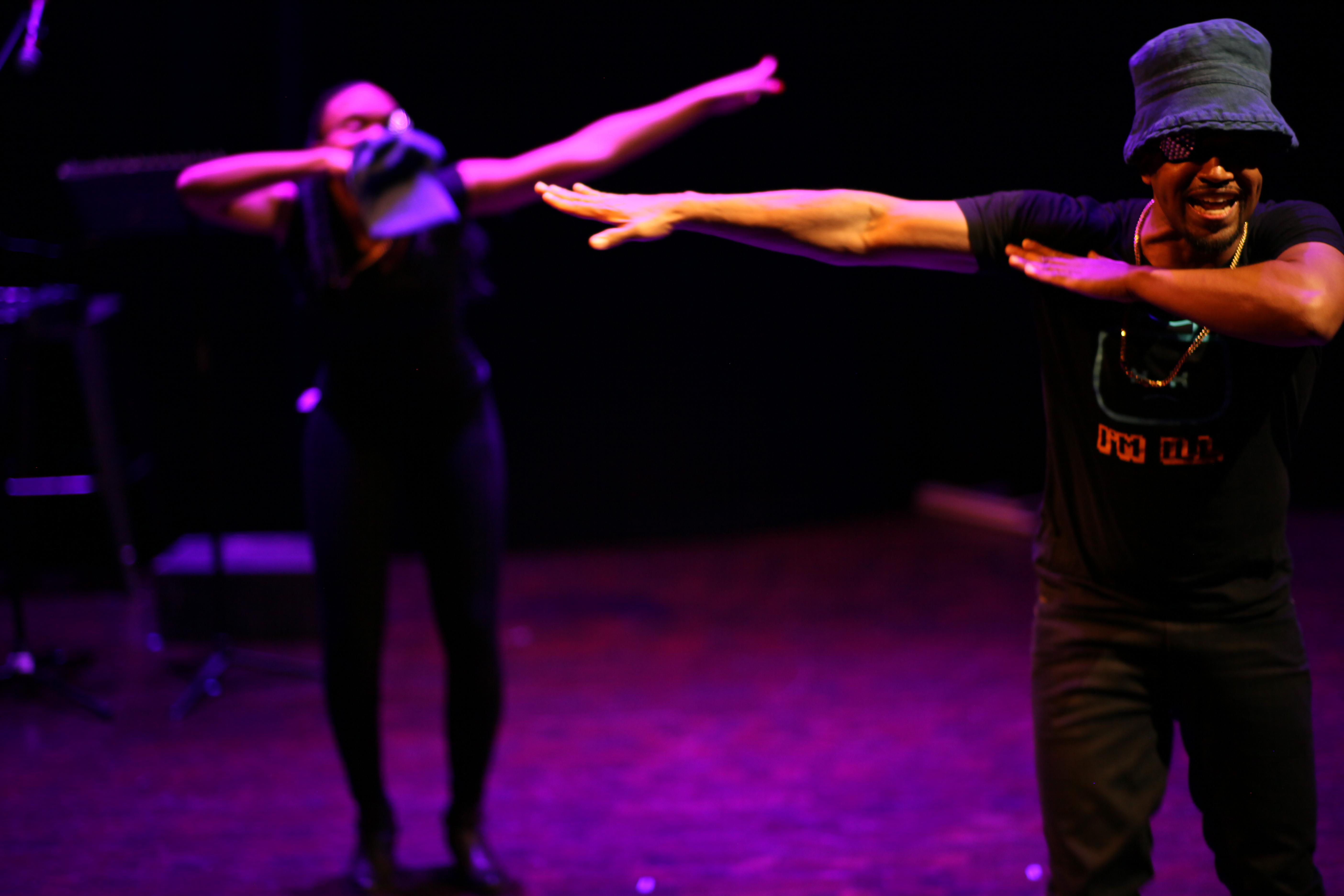 "Scathing, irreverent…"
"His presence is breathtaking, and chilling…dynamic and heartfelt…"
---
MCA NEW WORKS INITIATIVE
Get a glimpse into a new theater and dance collaboration being developed on the MCA Stage in this sneak peek performance! A chorus of step dancers directed by Roberta Uno expose writer and poet Dahlak Brathwaite's personal journey through the criminal justice system, a rite of passage for many young black men, exploring the struggle for vindication in the eyes of the law and society. Music is the mission of Try/Step/Trip, but Brathwaite is the conductor of his own story, told through dancers who figure as his younger self: a recent college graduate, a fraternity pledge dropout, and resister of labels. In this resonant music and theater experience, the ritual of black fraternity step dance parallels the effort to be recognized for who you are when the system only sees a criminal, with the cycles of freedom and subjugation in black American music as a starting place.
Run Time: 60 mins
This performance includes strong language.
Accessible Events
ASL-INTERPRETED with AUDIO DESCRIPTION
FRI, AUG 16, 7:30 PM
ASL interpretation by Julikka LaChe and Veramarie Baldoza is provided for this performance. Victor Cole provides an optional live audio description for patrons who are blind or low vision. Headsets can be reserved by calling our Box Office at 312-397-4010 or by emailing [email protected].
Post-Show Talk
FRI, AUG 16, immediately following the performance
Roger Bonair-Agard, poet and program director of Free Arts and Literacy, will guide a conversation with Brathwaite and the artists. This discussion will last roughly 45 minutes and will follow the format of the Baldwin Protocols, an arts-based series of conversations examining the psychic and emotional debt of incarceration to the American people.
---
About the Artists
Dahlak Brathwaite is a multifaceted hip-hop artist who maximizes his abilities as musician, actor, poet, and educator within the transformational space of the theater. Since launching onto the national spoken word scene by appearing on the last two seasons of HBO's Russell Simmons presents Def Poetry Jam, Dahlak has showcased his seamless blend of hip-hop, theater, and spoken word at more than 200 universities throughout the United States and Europe. Dahlak has worked closely with Broadway veteran and Rockefeller fellow, Marc Bamuthi Joseph. Dahlak has written and performed in several of Joseph's critically acclaimed plays, including Word Becomes Flesh, presented at The Public Theater and the Lincoln Center. From 2007 to 2012, Dahlak released five musical projects, including the album Spiritrials, which served as a soundtrack to his solo play. In 2014, Dahlak was selected as a musician for a U.S. State Department International Exchange Fellowship called 1Beat. Recently, Dahlak was nominated for the 2019 United States Artists Fellowship. Currently, Dahlak is collaborating with director Roberta Uno at CalArts Center for New Performance in order to adapt Spiritrials into an ensemble musical. Dahlak earned his BA in English and dramatic studies from the University of California, Davis.
Roberta Uno is a theater director and dramaturg. She was the founding Artistic Director of the New WORLD Theater, a theater dedicated to the work of artists of color in Amherst, Massachusetts, from 1979 to 2002. A member of the Stage Directors and Choreographers Society, her credits span over three decades and include working with artists like James Baldwin, Alice Childress, Chitra Banerjee Divakaruni, Mark Bamuthi Joseph, thúy le, Pearl Primus, Dawn Akemi Saito, Sekou Sundiata, Keo Woolford, and William Yellow Robe Jr. She was inducted into the College of Fellows of the American Theatre at the Kennedy Center in 2014 and is the Director of ArtChangeUS at the California Institute of the Arts. She is also the Artistic Director of the ʻŌlino Arts summer programs for the Queen Liliʻuokalani Trust, Hawaiʻi.
Toran Xavier Moore is a multidisciplinary artist from Montgomery, Alabama. Based in Los Angeles, this southern native operates at the intersection of theater, arts management, and movement. He credits the Alabama State University Eclectic Dance Company as his professional entry point into dance and choreography. Trained in tap, modern, and hip-hop, Moore mainly explores movement through the more percussive forms of step. In a mix of hip-hop and stepping, Moore honors the histories of Black Greek letter organizations, hip-hop pioneers, and ancestral rituals. He choreographed Try/Step/Trip at the Center for New Performance. In addition to his choreographic experience, Moore is a professional stage manager and producer. He has worked at theaters across the United States including the Los Angeles Theatre Center, the Balzer Theater at Herren's, the Walt Disney Modular Theater, and many others.
Founded in 1996 in San Francisco, Youth Speaks has long championed a local, national, and increasingly global movement of young people picking up pens and stepping proudly onto stages, declaring themselves present. Youth Speaks believe that literacy is a need, not a want. One of the world's leading presenters of spoken word performance, education, and youth development programs, Youth Speaks produces local and national youth poetry slams, festivals, and reading series, alongside a comprehensive slate of arts in education programs during the school day, in the after-school hours and on weekends. In addition, Youth Speaks creates internationally recognized theater and digital programming, and have helped launch a national network of more than 70 programs who believe in the power of young people.
Funding
Lead support for the MCA Stage New Works Initiative is provided by Elizabeth A. Liebman.
Dahlak Brathwaite's Try/Step/Trip is supported by the New England Foundation for the Arts' National Theater Project.