Within/Against: Youth and Institutions
Featured images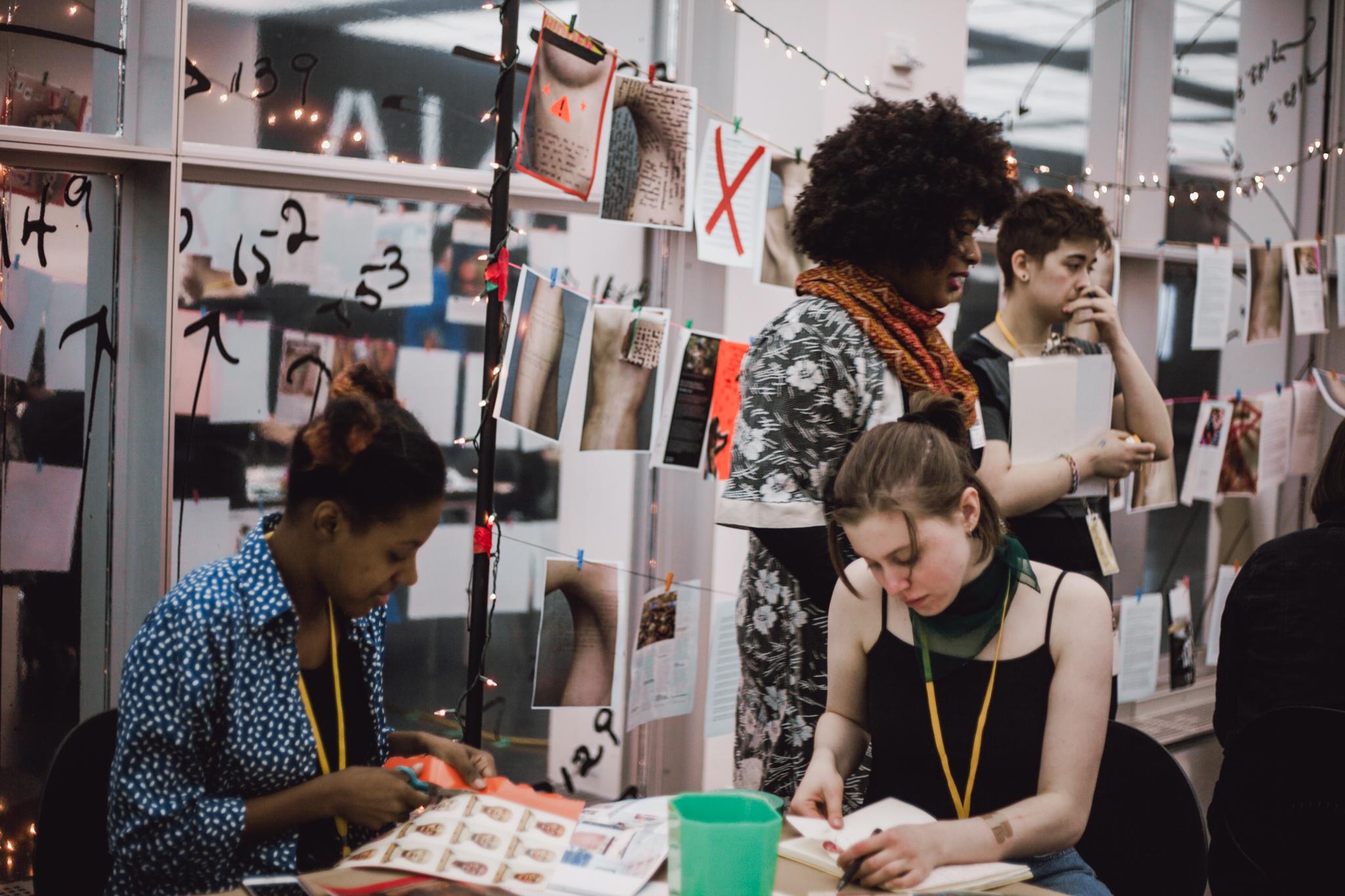 ---
Join Teen Artists' Creative Oasis (TACO) founders Bella Kiser and Bella Masterson for an intergenerational panel about youth agency in arts institutions and how young people are organizing their own spaces.
Teen Artists' Creative Oasis (TACO) is a project started in 2014 by Bella Masterson and Bella Kiser dedicated to creating an inclusive space for local Chicago youth artists to display and perform their art on the web and at events. TACO was created for teens by teens to create spaces for youth artists to exhibit their artwork, outside of the typical school setting.
Artist and Collaborator Bios
Teen Artists' Creative Oasis (@taco_chicago) is a Chicago-based project that provides an inclusive space and shares creative resources to promote, encourage and advocate for local youth artists. T.A.C.O. was created in 2014 by Bella Masterson and Bella Kiser to plan seasonal art opens "by teens and for teens" outside of institutional or school settings.

Bella Masterson (She/Her) is a 20-year-old organizer and art educator from Chicago, currently living in Philadelphia as a film student at Penn. She has worked to encourage numerous art and film institutions in Chicago and Philadelphia to include teens and students as leaders in their curatorial visions and program models.

Bella Kiser (She/Her) is a 21-year-old arts organizer and advocate, as well as an artist. She attends Tufts University and the School of the Museum of Fine Arts where she is enrolled in their 5-year dual degree program. Through her work with T.A.C.O., youth and adult artists, and arts organizations, she hopes to change the art history canon by making the art world a more inclusive and diverse space.
The Teen Arts Pass Teen Council (@teenartspass) is a group of young leaders that serves as the teen voice of the Teen Arts Pass program. The Council is responsible for ensuring the program best serves Chicago area teens by regularly attending performances, providing program and partner feedback, evaluating new partners, planning teen events, creating recruitment strategies and promotional materials, and more.

Rachel (She/Her) is a 16-year-old Jones College Prep student born and raised in the city of Chicago. Familiar with almost every corner of Chicago, she has both feet in when it comes to giving teens and young kids what they need! From sailing for sport to searching for show times, she wants to make sure everyone finds where they love to work and play.

Mikaela (She/Her) is a 16-year-old high school student who attends the University of Chicago Laboratory School. Born and raised in Chicago, she cultivated a wide range of experiences and interests. Her escapades provide a unique perspective on how to interlace interests and of the recreational and educational opportunities around the city. This allows for new ideas and collaborations, which she hopes to share to establish connections between groups that may not have otherwise interacted.
Fempowerment (@fempowermentchi) is a collective of Chicago high school students driven to create opportunities for young people to embrace and validate their identity through discussion, direct action, education, and creative expression. Rooted in intersectional feminism, they are an organization centered on empowering marginalized voices across all identities, including race, gender, class, sexuality, ability, and more. In their third year, they are always welcoming new members!

Nairobi (She/Her) is a 16-year-old rising junior at Whitney Young High School, from the South Shore neighborhood of Chicago. From a young age she has been highly motivated to enact change within her community and promote social justice initiatives. In her free time, she enjoys making jewelry and engaging with feminist literature. She hopes that through her participation in activism she can bring awareness to social issues and create lasting change.

Sarika (She/Her) is a 17-year-old first-year student at New York University. In addition to working as an organizer for Fempowerment, she is a research assistant for The I Project, an activism and art organization fighting gun violence by centering the needs of its stakeholders. She is a member of NAPAWF (National Asian Pacific American Women's Forum) and recently completed a yearlong research project surrounding school closings in Chicago. She is passionate about education and accessibility in Chicago and creating and sustaining spaces that empower young people.

Elisa (They/Them) is a 17-year-old senior who attends Jones College Prep High School. Born and raised on the South Side of Chicago, Elisa provides a different perspective on systemic issues facing their city. Through their activism, Elisa hopes to raise awareness and cultivate action against social issues facing communities of color across the country.
Dasia (She/Her) is an 18-year-old visual artist (painting, drawing, and sculpture) and curator. Dasia is the founder of Braided (@braidedddd), an organization geared towards showcasing POC artists, giving them space to get to know one another, and encouraging them to do the things that they love.
The Teen Creative Agency (@tcaatmca) at the MCA is made up of a group of 25 curious, creative, committed young people, ages 15 to 19, from all over the Chicago area. Led by two artists, TCA members learn about the museum; immerse themselves in contemporary art and ideas at the MCA and elsewhere in Chicago; collaborate with museum staff, other artists, and young people; and hone their collaboration, communication, and leadership skills. With this new knowledge, they curate exciting, unexpected, critical, and creative programs with and for their peers, as well as the general public.

Tallulah (She/Her) is an 18-year-old multimedia artist and SAIC Freshman. Her current work is focused on recontextualizing environmental crises such as species endangerment through the lens of historical research and references. During her term on the TCA, she gained invaluable experience working within a museum; had the opportunity to further her brainstorming and facilitation skills; and worked with her teammates to plan and implement numerous public programs. She is the 2019 Kidstreet Artist In Residence at Lillstreet Art Center. She is also a TCA Apprentice for 2019–2020, where she intends to focus on making Chicago art resources more accessible to youth.
The mission of the National Youth Art Movement Against Gun Violence (@nationalyouthartmovement) has the twin-focus of raising marginalized youth to the position of thought leaders in gun reform by giving them the opportunity to use their talent to transform commercial spaces and commercial products into grassroots, counter narratives while simultaneously serving as a vehicle to motivate more people to take action on the issue of gun violence.

Marquis (He/Him) is a 20-year-old student who attends Morehouse College in Atlanta, GA. Born and raised on the South Side of Chicago, Marquis provides a different perspective on the beauty that is within his city. Through the use of his photography, Marquis hopes to cultivate a new perception of his hometown and to create awareness of social issues across the country.

Elexsis (She/Her) is a 22-year-old student at Columbia College Chicago who spends her time studying black life and its impact on American culture, and focusing her energy on the good health and mental strength of the African Diaspora.
The Art Institute Teen Council(@artinstituteteens) is a group of 15 creative, passionate, and dedicated high school teens who design teen programs, events, and resources at the Art Institute. The purpose of Teen Council's work is to make the museum more welcoming and engaging for all young people.

Nicole (She/Her) is a 19-year-old sophomore at the School of the Art Institute of Chicago. During 2016¬2018, she served the Art Institute's Teen Council curating events such as Re:Imagine 24 and Exuberus as well as writing content, voice acting, and designing promotional material for the Teen audio guide released during the 2018 year. Nicole is a graphic designer, printmaker, and educator working for inclusive museums for teens and beyond.

Zimra (She/Her) is a 17-year-old who currently works as an intern on the Art Institute of Chicago's Teen Council. In 2020 she will have been on the Teen Council for three years. She was heavily involved in the creation and execution of the first teen-oriented museum audio guide, and she loves to give museum tours during teen events and to the general public. She recently gave a TEDx Talk in May 2019 about the importance of diverse representation in art museums, and she follows her own artistic practices within photography and culinary arts on a day-to-day basis.

Michael "DJ MBIII" (He/Him) is a 15-year-old junior at Kenwood Academy High School. A member of the Art Institute of Chicago's Teen Council since 2017, he produced the large majority of the Teen Audio Guide in 2018 in addition to voice acting and serving as resident DJ for the Teen Hang series and Exuberus. Michael is a visual artist with broad creative interests, striving to make sure that other youth can be exposed to as many types of art as possible.
Ari (They/Them) is a 19-year-old poet and instructor at After School Matters from the South Side of Chicago. Their work centers exploring queerness, gender, blackness, religion, and other identity intersections. They have performed on stages such as the UIC Forum, Auditorium Theatre, Metro, Reva and David Logan Center for the Arts. They have collaborated with Joffrey Ballet, Rebirth and they are a Louder Than a Bomb Champion and Indy Finalist, a former Young Chicago Authors Bomb Squad Intern, and a Brave New Voices Semi-Finalist. Ari cuts hair when they aren't writing poems and shit, so if you want a fade but don't wanna go to problematic ass barber shops hit them up.

More about After School Matters
IntuiTeens is a group of young art enthusiasts who celebrate the power of outsider art. After an immersive look at the genre through field trips, conversations, and hands-on activities, interns represent Intuit: The Center for Intuitive and Outsider Art by leading original art-making workshops throughout the city. Every summer, IntuiTeens explore nontraditional art-making techniques, museum careers, and Chicago's creativity.

Ethan (He/Him) is a 16-year-old rising senior at Whitney Young High School and mixed media artist. He explores a diverse range of themes in his artwork, including fashion consumerism, identity, and feelings of isolation. He recently had his Value zine displayed at the MCA as part of 21Minus. Alongside making art, he is passionate about creating a more progressive and inclusive community at his high school and is active in the Acting For Gender Equality Club, Students Working Against Prisons Club, and Best Buddies.