Announcement
The performance contains mature content and stage effects that use haze.
Featured image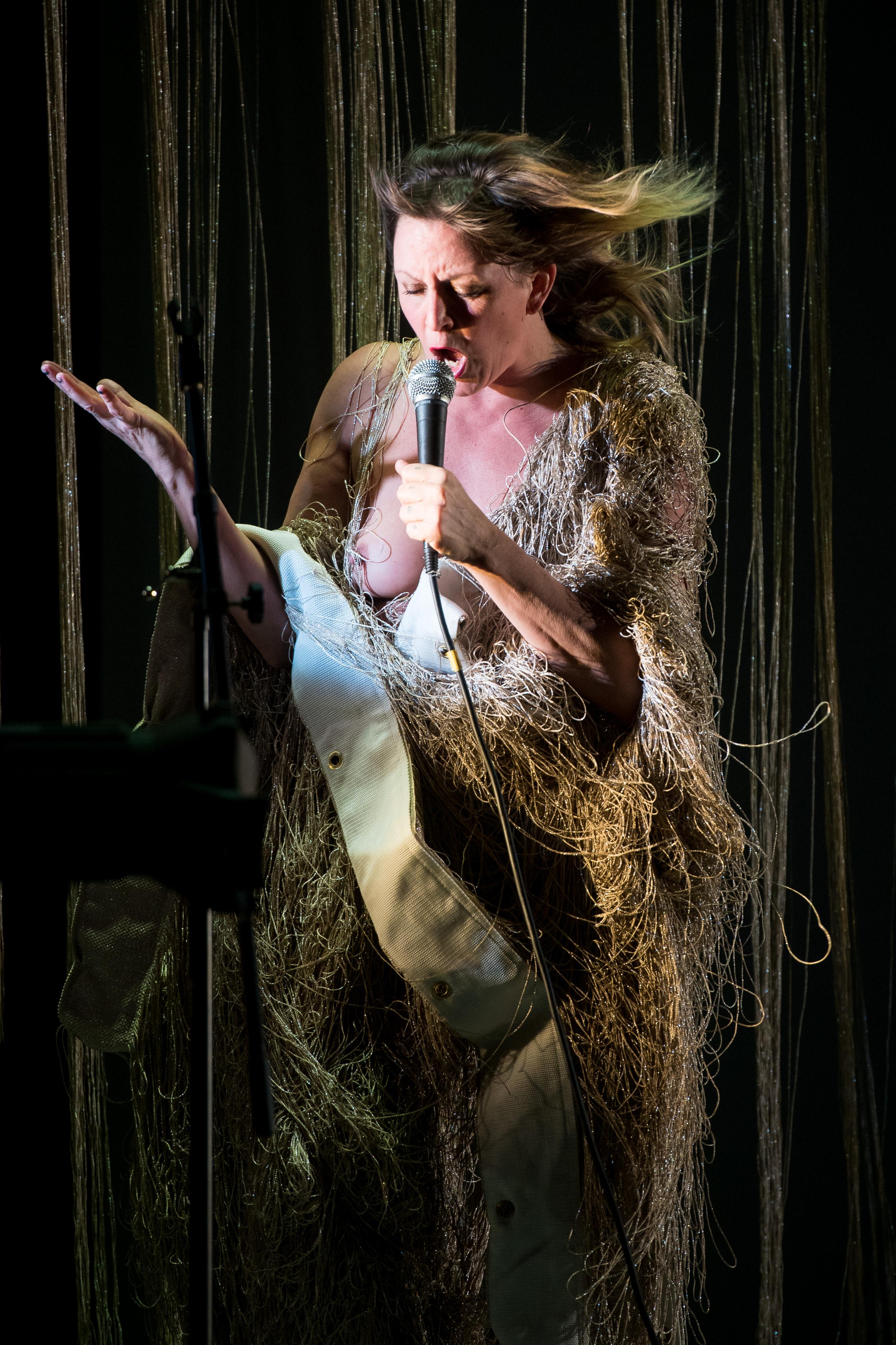 Yes, Truscott may take it too far sometimes, and yes, she may make you blush. But, above all, she makes you think and feel.

—Dance Enthusiast
About
Adrienne Truscott's Bessie-nominated work THIS is propelled by both blistering satire and choreographic composition as radical tools for capturing and holding an audience's attention. Truscott mines her own genre-straddling oeuvre—as comedian, choreographer, cabaret performer, performance artist, and activist—in a brash, non-linear confessional that bounces from contemporary feminism to the presidency to unconventional urban living. THIS is a solo performance that may not always be a solo; it is a dance that may not be a dance; it is a comedy that may not always be funny. It is a performance of writing (and reading) that alters to reflect the moment at hand—the venue and location, the current news cycle—and to reflect the experience of time as it is transformed by memory and embellishment, intention and execution. It plays with assumptions about authorship, linear narrative, truth, fiction, failure, and autobiography. Maybe, like it or not, performance is just another form of memoir, and maybe that fact is weird. THIS tries to make a piece of art about trauma while being traumatized by the inadequacy of making art in the current political landscape. Treating both her monologues and the theater as a kind of choreography, Truscott stages her self with impeccable timing.
In THIS, Truscott has managed a real tongue twister: to make a dance about dance with no dance in it . . . to choreograph a dance of the mind.

—The New York Times
images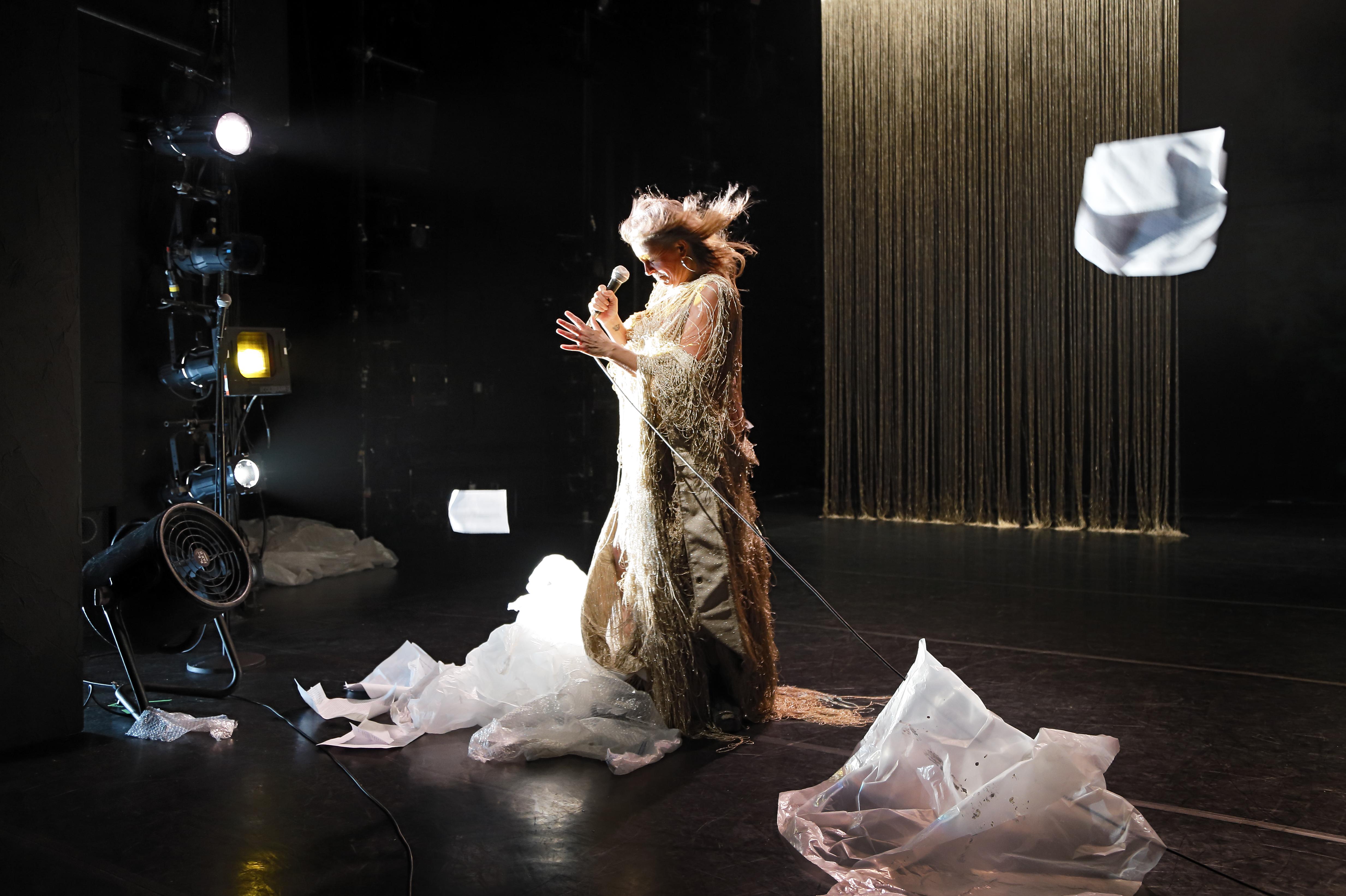 Accessible Events
ASL-INTERPRETED PERFORMANCE with AUDIO DESCRIPTION and RELAXED PERFORMANCE
SUN, MAY 5, 2 pm
An optional live audio description for patrons who are blind or have low vision can be available. Headsets can be reserved by calling our Box Office at 312-397-4010.
Relaxed performances are for people with or without disabilities who prefer some flexibility in regard to noise and movement in the theater. Stage lighting and sound have been adapted by the artists to be less intense. Patrons are free to leave and reenter the theater as necessary, and the theater lights are kept at a glow to facilitate movement. Sensory rest areas are available outside the theater for patrons to take a break before returning to the show. Volunteers, many of whom are members of the disabled community, are present to assist.
---
About the Artist
Adrienne Truscott received a 2014 Doris Duke Impact Artist Award and is a 2017 Foundation for Contemporary Arts grantee for Theater/Performance Art. Her solo comedic work and group choreographic works have been presented at Melbourne International Comedy Festival, Just For Laughs, Darwin Festival, PS122, Joe's Pub, The Kitchen, Dublin Fringe Festival, Danspace Project, Boom Arts, New York Live Arts, the Malthouse Theatre (Melbourne), and Dance Theater Workshop. Her form-busting show Adrienne Truscott's Asking For It: A One-Lady Rape About Comedy Starring Her Pussy and Little Else! won the 2013 Edinburgh Foster's Panel Prize, was a finalist for the Total Theatre Award for Playing With Form, and is considered a critical impetus to the evolving conversation about rape culture. It has been presented by or included in curriculum at CalArts, New York University, the University of Pennsylvania, Princeton University, and Louis & Clark College, among others. THIS was nominated for a 2017 New York Dance and Performance Award (Bessie) for Outstanding Production. The Wau Wau Sisters, her boundary-defying neo-vaudevillian collaboration with Tanya Gagne, have been presented by the Sydney Opera House, Joe's Pub, CBGB, Victoria Arts Centre, and The Roundhouse, and won the prestigious 2009 Herald Angel Award. Her piece Wild Bore, a "meta rebuke to critical writing," was nominated for a Green Room Award for New Writing for the Australian Stage and won for Best Ensemble. Truscott's essays have been published in Between Us: Women of Letters and Doing It: Women Tell the Truth about Great Sex, as well as in the Guardian. She appeared as a storyteller at the Sydney Opera House's Festival of Dangerous Ideas, on The Moth, and in other live storytelling series. Truscott has guest taught for the Wesleyan University Dance Department, Sarah Lawrence College, Bard College, and Yale University.
images
Funding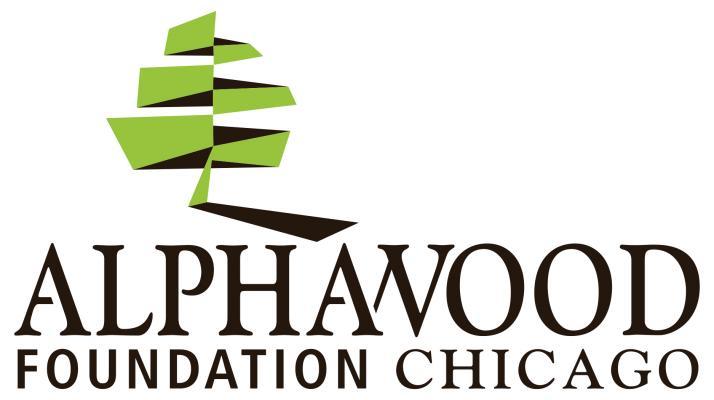 ---
Post-Show Talk
FRI, May 3, immediately following the performance
The audience is invited to stay for a brief conversation with Adrienne Truscott and Associate Curator of Performance Tara Aisha Willis.