Comics and Art Book Fest: Jessica Campbell with Zine Not Dead
Featured images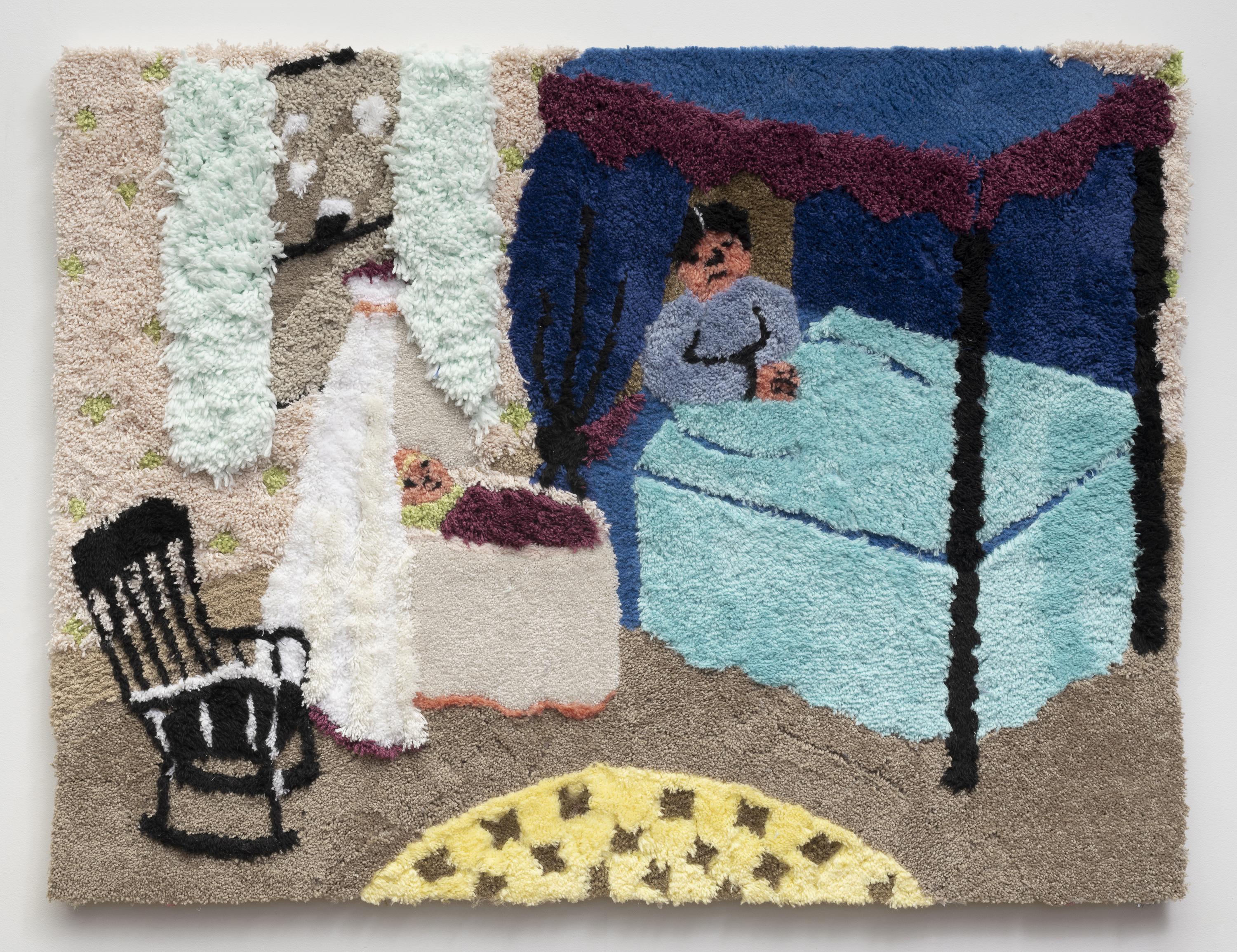 ---
Chicago Works artist Jessica Campbell hosts a day celebrating the vast world of Chicago comics. Patrons can immerse themselves in sequential imagery at a Chicago artist micro–book fair throughout the day, featuring performances and readings organized by the collective Zine Not Dead from 2–3 pm.
Public Programs at the MCA are organized by January Parkos Arnall, Curator of Public Programs, and Christy LeMaster, Assistant Curator of Public Programs.
Performances may include some adult themes and imagery.
---
ABOUT THE ARTISTS
Emma Akins is an artist based in Chicago. Emma was born in Dubuque, Iowa. She studies comics, illustration, animation, and painting at the School of the Art Institute of Chicago. She works at Graham Crackers Comics and occasionally sells her work in the local section of the store. She worked as a studio assistant on the MCA exhibition Chicago Works: Jessica Campbell.
David Alvarado is a cartoonist and illustrator who grew up in the suburbs of Chicago and graduated from Columbia College Chicago. His comics are often characterized by quirky characters, bizarre scenarios, and absurd humor. His Illustrations are often densely layered in detail with rich flat color. He has also contributed comics to the back pages of Newcity under the comic title Life is Beautiful.
Bred Press is an artist books, comics, and zine publishing house located in Chicago. Started by Brad Rohloff in 2014, it provides a platform by which to support contemporary artists working within the medium of printed and published matter.
Jessica Campbell is a Canadian artist, working in comics, fibres, painting, and performance. She is the author of Hot or Not: 20th Century Male Artists(2016) and XTC69(2018), both published by Koyama Press. Her exhibition, Chicago Works: Jessica Campbell, is on display at the MCA until July 7, 2019.
Lilli Carré is an interdisciplinary artist working in animation, sculpture, comics, and print. She is codirector of the Eyeworks Festival of Experimental Animation, held annually in Chicago, LA, and New York. She has published books with Fantagraphics Books, Uncivilized Books, and TOON Books. Her comics and illustrations have appeared in the New Yorker, the New York Times, theBest American Comics and the Best American Nonrequired Reading.
Caroline Cash is a cartoonist living, working, and sweating in Chicago.
Caroline's work can be found on Instagram: @cash_browns.
Chris Day is an artist, designer, printer, and musician based in Chicago.
Margot Ferrick was born in 1988 on Long Island and now lives in Chicago.
Gabe Howell is a Chicago-based cartoonist and printmaker. His comics deal with topics such as battling mental illness, undergoing hormone replacement therapy, and his various struggles living as a transgender man. He enjoys self-publishing his comics and zines, collecting Precious Moments paraphernalia, and going to therapy every week.
Amy Lockhart is a filmmaker, animator, and artist. Her animations have screened internationally, including at the Whitney Museum of American Art, the British Film Institute, the Anthology Film Archives, GLAS Animation, Ann Arbor Film Festival, the Ottawa International Animation Festival, Carnegie Mellon University, and at the Hiroshima International Animation Festival. Lockhart has received fellowships at the National Film Board of Canada and support from the Canada Council for the Arts. She has completed residencies at Quickdraw Animation Society, Struts Gallery & Faucet Media Arts Centre, and the School of the Art Institute of Chicago. Her drawings, comics, and paintings have been published by Drawn & Quarterly (Dirty Dishes, 2009) and by Colour Code Printing and Publishing (Looking Inward, 2016).
Sacha Lusk is a goblin who lives in Chicago, making comics, and stirring up trouble.
Molly Colleen O'Connell is an interdisciplinary artist based in Chicago. Through sculptural installation, comics, video, and comedic performance, she mixes unbelievable truths and strange fictions to create a world of perverted feminist hallucinations. O'Connell received her BFA at the Maryland Institute College of Art and her MFA at the School of the Art Institute of Chicago. Her work has been performed, screened, and exhibited at the Museum of Contemporary Art Chicago, AALA Gallery (Los Angeles), Evening Hours (New York), Waiting Room Gallery (Tokyo), Thalia Hall (Chicago), MOHS Exhibit (Copenhagen), and sophiajacob (Baltimore).
Perfectly Acceptable Press is a Risograph print studio and publishing house in Chicago. Besides doing contract printing for artists all over North America, Perfectly Acceptable publishes books spanning the genres of comics, artist books, and essays with an emphasis on narrative and craft.
Coco Picard is a writer, publisher, and curator. Her critical writing appears under the name Caroline Picard in publications like Artforum, Art21, Flash Art International, Hyperallergic, and THE SEEN. A recent essay, "The Strangers Among Us", was released as a chapbook by Astrophil Press in 2017. Her fiction and comics have appeared in Hyperallergic, The Coming Envelope(Book*hug),Necessary Fiction,Tupelo Quarterly,Everyday Genius, as well as contributions in volumes one and three ofThe Graphic Canon_ (Seven Stories Press). She is the Executive Director of The Green Lantern Press, a nonprofit publishing house in operation since 2005.
Aaron Renier is the author of three graphic novels for younger readers: Spiral-Bound, Walker Bean, and Walker Bean and the Knights of the Waxing Moon. He was the recipient of the Will Eisner Comic Industry Award for Talent Deserving of Wider Recognition in 2006 and was an inaugural resident for the Sendak Fellowship in 2010. He teaches drawing and comics at universities in Chicago.
Keiler Roberts is a Chicago-based artist whose autobiographical comic series Powdered Milk received an Ignatz Award for Outstanding Series and was included in the 2016 and 2018 editions ofThe Best American Comics. Her most recent books, Chlorine Gardens and Sunburning, were published by Koyama Press.
Scott Roberts is a cartoonist who creates and prints experimental art comics and makes animated films. He shares a home and studio in Evanston with the cartoonist Keiler Roberts, their daughter Xia, and Crooky the dog.
Conor Stechschulte was raised in rural Pennsylvania and began self-publishing comics while attending the Maryland Institute College of Art in Baltimore. His debut graphic novel, The Amateurs, was published by Fantagraphics Books in 2014 and translated into Italian by 001 Edizioni in 2017. He is currently serializing Generous Bosom with Breakdown Press in London. He lives in Chicago where he teaches courses in comics and self-publishing at the School of the Art Institute of Chicago.
Gina Wynbrandt is a cartoonist living in Chicago. Her work has been featured in The Best American Comics, The Believer, and VICE. Her first book Someone Please Have Sex With Me is published by 2dcloud and has been translated into Danish, Spanish, and Norwegian.
Bianca Xunise is an illustrator and cartoonist based out of Chicago. Her work primarily focuses on the plight and daily struggles of identifying as a young black feminist weirdo in modern society. Her storytelling ranges from simple, slice-of-life content to complex, nuanced narratives around police brutality, garnering an Ignatz Award for Promising New Talent. Xunise's work has been published on diverse platforms such as HelloGiggles, The Nib, Bitch, the Washington Post and NYLON and she has been interviewed on platforms such as The BBC, The Nerdist, and Riot Fest.