Annie Dorsen
The Great Outdoors
Featured image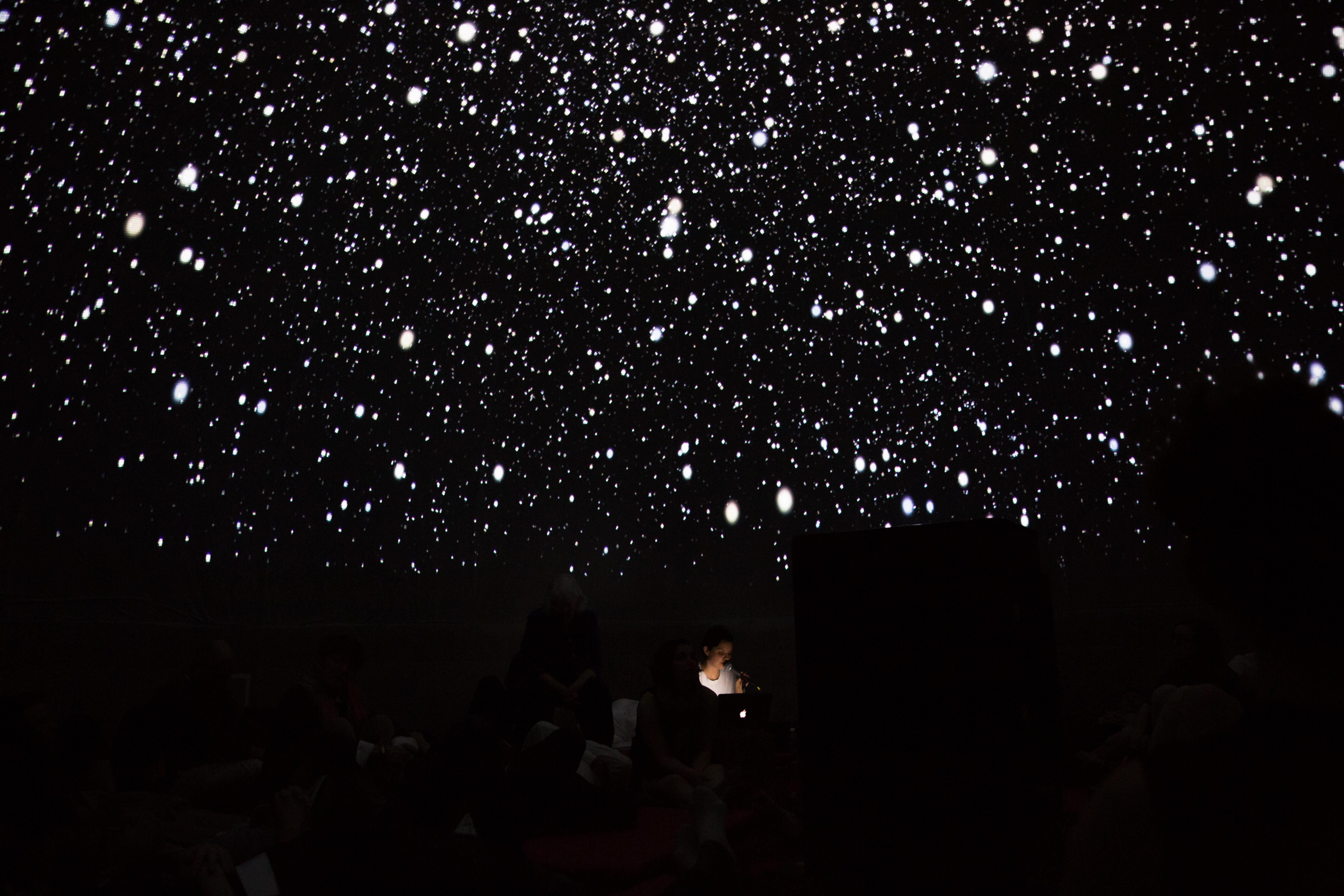 About the Performance
For writer-director Annie Dorsen, The Great Outdoors connects ideas of infinity and the unknown from romanticism to today's networked, hyper-connected technologies. "The internet is a new Romantic landscape where we can go exploring, as explorers did in the nineteenth century. Now we are sitting in front of our computer, with the same view of an infinite, mythological landscape. Who knows what we will find there? Hackers? NSA spies? Internet trolling?"
In The Great Outdoors audiences are invited to lie on yoga mats inside an inflatable planetarium and imagine the internet's infinite possibilities as a new form of celestial authority. As we voyage under a digital starry sky—a 360-degree simulation of the universe designed by Dorsen with Ryan Holsopples—we become the new century's explorers. Set to Sébastien Roux's live-mixed composition (inspired by the theory that the universe's energy is constantly being expended), this digital infinity articulates the same anonymity of the living rooms where, at any given moment, millions of people launch countless comments into virtual space.
To give voice and body to the thoughts of this aggregate of individuals, a female performer reads aloud 4chan and Reddit comments from the previous 24 hours. These fragments of chatter, which Dorsen selects and runs through an algorithm she created, emerge as the internet's id—unrestrained and protected by anonymity.
The work is one of a number of projects that Dorsen calls "algorithmic theater," in which digital tools shape the script and experience of live theater. Though the algorithm draws on human-made content, its actions run independent of human intervention, which seems to hint at how, even when we cease to exist, these hyper-connected technologies will continue on.
In an interview with Christopher Tibble for Medium, Dorsen describes the dualities that informed the work: "a theater stage is a very ambiguous space. . . . It is a simulation of life, but also actual life; it is at the same time totally fake and real." Additionally, "the internet is both an inner and an outer space. . . . It's a kind of node of connection between ourselves and the world beyond our physical self, our physical location. On the other hand, it also functions as an inner space, almost like a projection of ourselves that exists in the screens of our iPhones or laptops. A kind of very personal dreamscape, a cinema for one that is constantly changing, that's responsive to us. It's a space of fantasy in a certain way, even when it's telling us horrible things about the world. It was this contradiction that I was thinking of with the title The Great Outdoors."
With music by Sébastien Roux.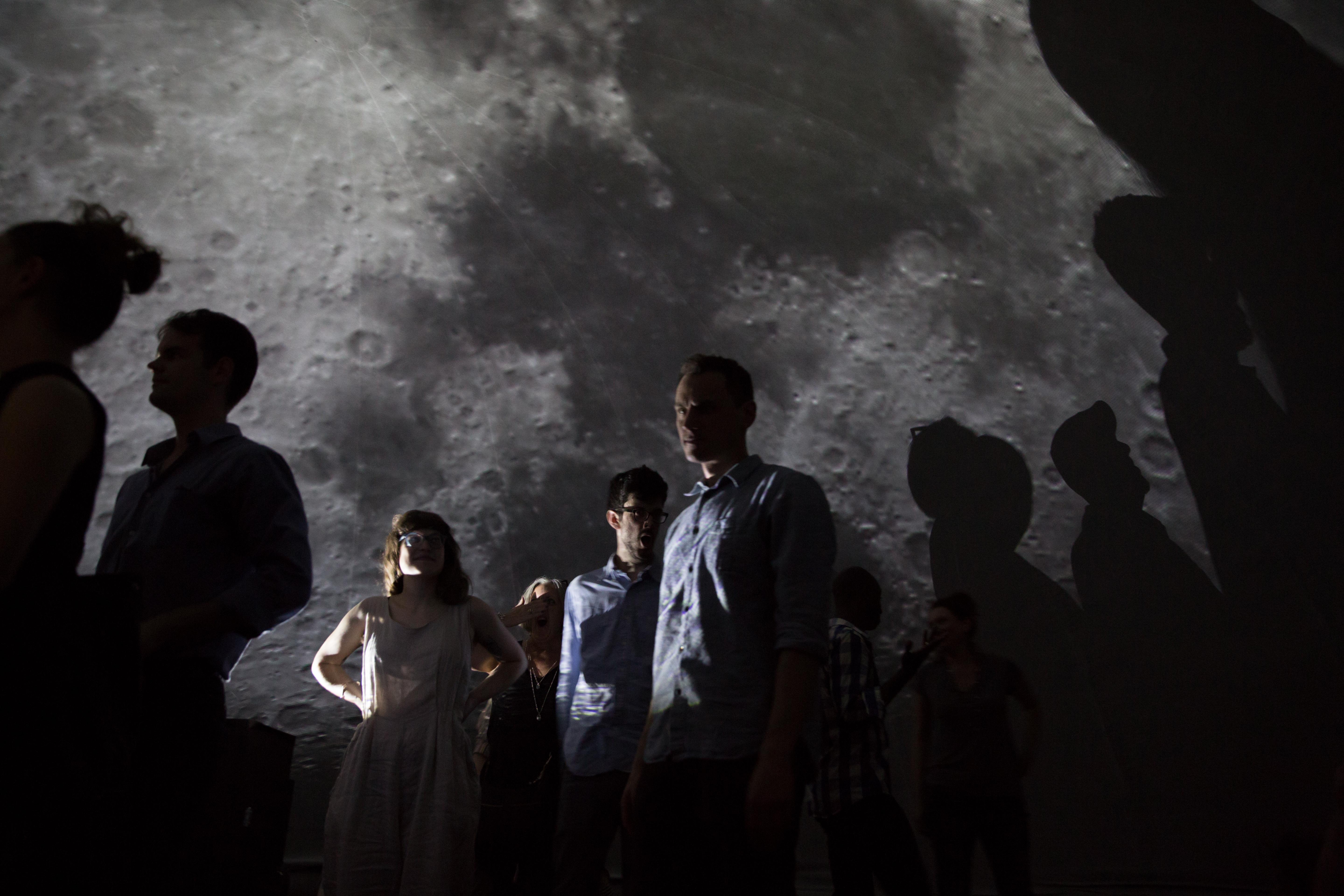 POST-SHOW TALK
Fri, Mar 22, immediately following performance
Please stay after the performance for a brief conversation with Annie Dorsen, moderated by Curatorial Assistant Laura Paige Kyber.
About the Artists
Annie Dorsen works in a variety of fields including theater, film, dance, and, as of 2010, algorithmic theater. She received an Obie Award in 2008, an Alpert Award in the Arts in 2014, and is a 2017 recipient of the Foundation for Contemporary Arts Artist Award. She is the cocreator and director of the 2008 Broadway musical Passing Strange, written by Stew and Heidi Rodewald and featuring their band The Negro Problem. Spike Lee made a film of her production of the piece that premiered at the Sundance Film Festival in 2009, has subsequently screened at the South by Southwest Film Festival and Tribeca Film Festival, and was released theatrically by IFC.
Dorsen's other music-theater works include ETHEL's TruckStop™, seen at the Brooklyn Academy of Music's Next Wave Festival in 2008, and Ask Your Mama, a setting of Langston Hughes's 1961 poem that was composed by Laura Karpman, sung by Jessye Norman and The Roots, and performed at Carnegie Hall in 2009. Her pop-political performance project Democracy in America was presented at PS122 in 2008, and her short film I Miss, originally the centerpiece of Democracy in America, screened at the American Film Institute Festival (AFI FEST), South by Southwest Film Festival, New York Film Festival's "Views from the Avant-Garde," and Nantucket Film Festival.
In 2010 she collaborated with choreographer Anne Juren on Magical (ImPulsTanz Festival, Vienna; Side Step Festival, Helsinki; Théâtre de la Cité internationale, Paris; Kampnagel, Hamburg; and others) and with Ms. Juren and DD Dorvillier on Pièce Sans Paroles (brut Wien, Vienna, and Rencontres Chorégraphiques internationales Seine-Saint-Denis, Paris).
Dorsen's selected publications include "On Algorithmic Theater," originally published in the blog of the journal Theater in tandem with the "Digital Dramaturgies" issue (2012); "Poetry is 'No Poverty' and 'No Poverty' is Poetry: An Interview with Judith Malina," in Not Just a Mirror: Looking for the Political Theatre of Today, edited by Florian Malzacher and Alexander Verlag (Live Art Development Agency, 2015); A Piece of Work (Ugly Duckling Presse, 2017); and "The Sublime and the Digital Landscape" in Theater (2018).
Dorsen is in the second of a three-year appointment as Visiting Assistant Professor of Practice Theater and Performance Studies at the University of Chicago.
Sébastien Roux writes electronic music for a range of formats, from CDs and records to public listening sessions, sound installations, sound walks, and radio pieces. He made his Chicago debut at the MCA in 2009 as a musical assistant to Morton Subotnick for parades & changes, replays by Anne Collod and Anna Halprin.
His approach to composition is focused on principles of translation, analyzing the structures of preexisting artworks (visual, musical, literary) and transposing them into scores for new works (radiophonic or electroacoustic taped music). This process led to of:Quatuor (2011)—an electroacoustic work based on Beethoven's String Quartet no. 10 and commissioned by Groupe de Recherches Musicales—and Nouvelle (2012), a radio work based on Flaubert's short story "The Legend of Saint Julian the Hospitalier" and commissioned by the Westdeutscher Rundfunk.
The most recent development out of this process of "translation" is Inevitable Music, which has involved exhaustive research on the wall drawings of Sol LeWitt and a long-term examination and development of a methodology for applying the rules and means of these works to sonic ends.
Along with his solo works, Roux maintains significant collaborations, such as with writer Célia Houdart on the sound walk car j'étais avec eux tout le temps (Festival d'Avignon, 2010), Dérive (Biennale Evento, Bordeaux, 2009), and Oiseaux/Tonnerre (Marseille, European Capital of Culture, 2013), which combined a sound walk on the mountain Sainte-Victoire with a site-specific sound installation at a defunct coal mine in Gardanne, France.
Roux has written music for dance and theater for choreographers Lionel Hoche, Sylvain Prunenec, and DD Dorvillier, and theater director Annie Dorsen. He has been awarded many commissions and residencies, and at IRCAM, Paris, has worked as a musical assistant to Georges Aperghis (Avis de tempête), Bruno Mantovani, and Gérard Pesson.
On Annie Dorsen's algorithmic work
Annie Dorsen is interested in breaking with a history of theater that maintains a particular self-image. She argues that a theater's continual investment in its own history erases difference—sustaining and affirming a narrow understanding, across decades and centuries, of what a human is.
Dorsen's algorithmic theater challenges the central axioms of theater as such, which a mathematician she recently met ordered into three inextricable notions: embodiment, that to experience theater demands a body onstage that inhabits the performance; ephemerality, which tends to resist the possibility of reproduction; and most significantly, language as a representation of subjectivity and vehicle for thought, and that theatrical language can therefore "represent consciousness" or the interiority of a human.
To reconcile this assessment, which she no longer finds defensible or useful, Dorsen proposes a theater without human actors wherein "that timeworn mirror becomes a glossy screen onto which human audiences project themselves, mediated by data, algorithms and interfaces."
Increasingly in her work, we do not see ourselves onstage; we see instead an expression of computer-generated, human-ish processes. Our engagement with those processes becomes an opportunity to rethink the categories that define theater: the presence of the body, the organization and operation of time, and the use of language as a carrier for thought. The questions most fundamental to Dorsen in creating algorithmic theater are about what kinds of screens we are peering into and what kinds of selves we are hoping to glimpse there.
Funding
The Great Outdoors is a coproduction of BIT Teatergarasjen & Bergen International Festival (Bergen, Norway), Crossing the Line Festival/French Institute Alliance Française (New York, NY), and Noorderzon/Grand Theatre Groningen (NL). The Great Outdoors is supported by the Hermès Foundation within the framework of the New Settings Program. The Great Outdoors is created with the support of King's Fountain; developed in part by Live Arts Bard at the Richard B. Fisher Center for the Performing Arts at Bard College (Annandale on Hudson, NY); and supported by a residency at Abrons Arts Center (New York, NY).
Lead support for the MCA New Works Initiative is provided by Elizabeth A. Liebman.