Screening: Akosua Adoma Owusu
Featured images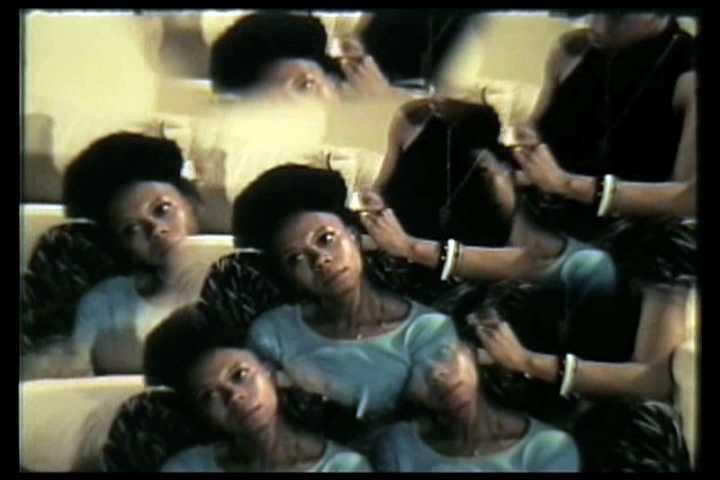 ---
The work of Ghanaian-American filmmaker Akosua Adoma Owusu explores the colliding identities of black immigrants in America through multiple forms ranging from cinematic essays to experimental narratives to reconstructed black popular media. Join Owusu for a screening and moderated discussion of her recent work in the Edlis Neeson Theater.
MCA Screenings feature experimental works of contemporary cinema and are organized by Assistant Curator of Public Programs Christy LeMaster.
---
About the Artist
Akosua Adoma Owusu(b. 1984) is a Ghanaian-American filmmaker, producer, and cinematographer whose films address the collision of identities. Interpreting the notion of "double consciousness," coined by sociologist and civil rights activist W. E. B. Du Bois to define the experience of black Americans negotiating selfhood in the face of discrimination and cultural dislocation, Owusu aims to create a third cinematic space or consciousness. In her works, feminism, queerness, and African identities interact in African, white American, and black American cultural environments.
Owusu's films have screened internationally in festivals like International Film Festival Rotterdam, Locarno International Film Festival, Toronto International Film Festival, New Directors/New Films Festival and the BFI London Film Festival. Her work is included in the collections of the Whitney Museum of American Art, the Centre Georges Pompidou, the Fowler Museum at UCLA and the Black Film Center/Archive at Indiana University Bloomington. Named by IndieWire as one of six preeminent "avant-garde female filmmakers who redefined cinema," she was a featured artist of the 56th Robert Flaherty Film Seminar programmed by renowned film curator and critic Dennis Lim. Her film Kwaku Ananse won the 2013 Africa Movie Academy Award. She has received fellowships and grants from the John Simon Guggenheim Memorial Foundation, the Knight Foundation, Creative Capital, the MacDowell Colony, the Camargo Foundation and most recently from the Residency Program of the Goethe-Institut Salvador-Bahia. Currently, she divides her time between Ghana and New York, where she works as a visiting assistant professor at the Pratt Institute in Brooklyn.
Me Broni Ba, directed by Akosua Adoma Owusu, Ghana, 2009, is a lyrical portrait of hair salons in Kumasi, Ghana. The tangled legacy of European colonialism in Africa is evoked through images of women practicing hair braiding on discarded white baby dolls from the West. The film unfolds through a series of vignettes, set against a child's story of migrating from Ghana to the United States. The film uncovers the meaning behind the Akan term of endearment, me broni ba, which means "my white baby."