Okwui Okpokwasili Poor People's TV Room
Featured Images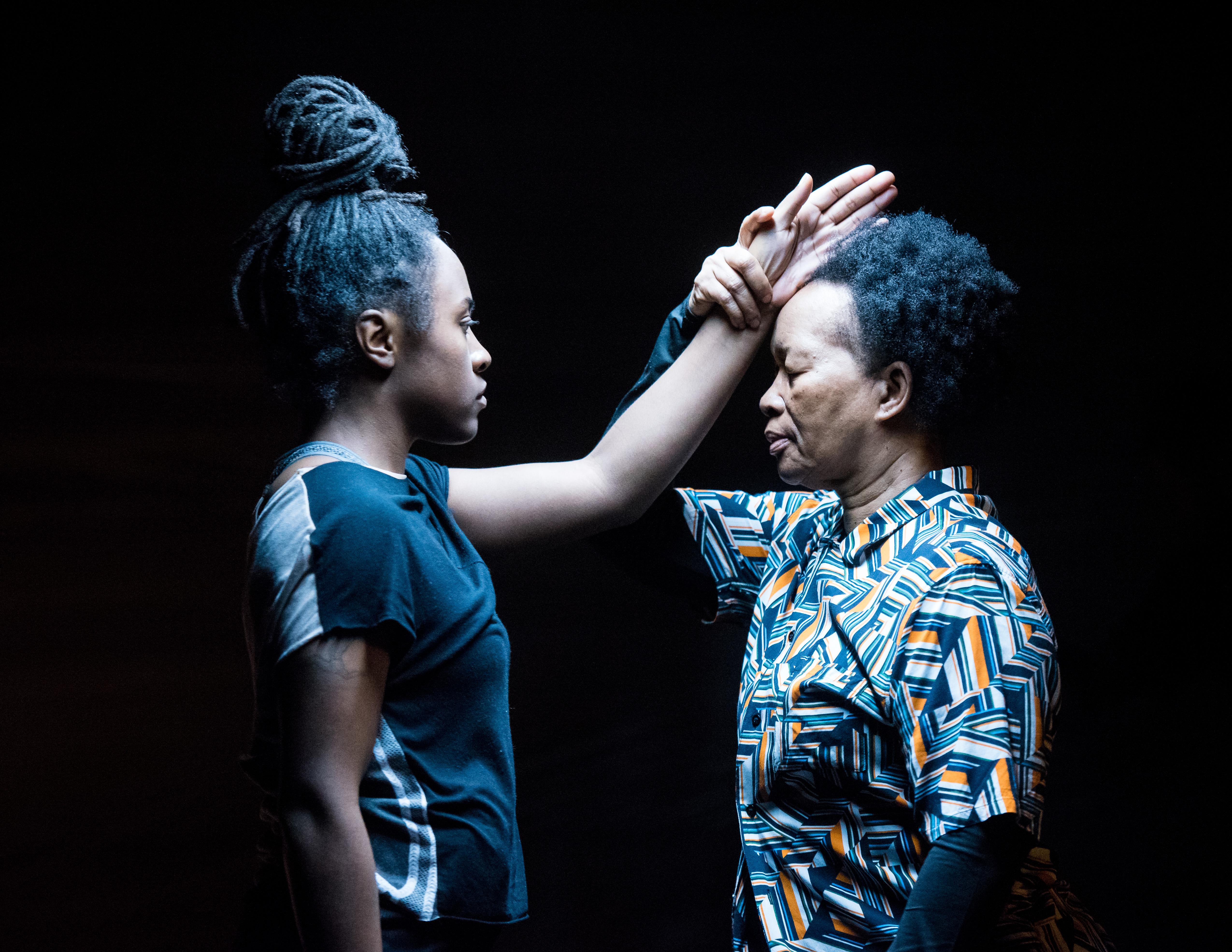 About the Performance
"Poor People's TV Room" is part of the grand narrative about politics, the body, and place that Okpokwasili is building, gesture by gesture, whisper by whisper, brick by brick.
Bessie Award–winning artist and United States Artist Fellow Okwui Okpokwasili and director-designer Peter Born use an interdisciplinary approach to examine gender, culture, and identity as they are expressed in American and global contexts. Poor People's TV Room is concerned with how to recover buried histories, particularly of movements of resistance and collective action in Nigeria. This exploration was set in motion by two historical incidents: the Women's War of 1929, a resistance movement against British colonial powers, and the Boko Haram kidnappings of more than 300 girls in 2014, which launched the Bring Back Our Girls movement.
In this work that brings together choreography, song, text, and film, Okpokwasili performs with three women from different generations. Poor People's TV Room, which blends original score and dance with Okpokwasili's contemporary dance aesthetic, exists in a psychic landscape concerned with the loss of memory and invisibility. The result is a narrative by brown women contending with the meaning of their bodies in relation to each other—a potent reflection of the effects the erasure of women's histories has on contemporary societies today.
RUNNING TIME: 90 minutes
ASL interpretation by Amy Kisner and Shannon Moutinho is provided for this performance. Victor Cole provides an optional live Audio Description for patrons who are blind or low vision. Headsets can be reserved by calling our Box Office at 312-397-4010.
About the Artist
Okwui Okpokwasili is a New York–based writer, performer, and choreographer. Okpokwasili creates multidisciplinary projects in collaboration with her artistic partner Peter Born. Their first New York production, Pent-Up: A Revenge Dance premiered at Performance Space 122 in 2010 and received a New York Dance and Performance Bessie Award for Outstanding Production. Their second collaboration, Bronx Gothic, won a 2014 New York Dance and Performance Bessie Award for Outstanding Production and continues to tour nationally and internationally. In June 2014, they presented an installation entitled Bronx Gothic: The Oval as part of the Lower Manhattan Cultural Council's River to River Festival.
As a performer, Okpokwasili has collaborated with award-winning director Ralph Lemon, including on Come home Charley Patton (Bessie Award) and, most recently, Scaffold Room. She has also performed in Nora Chipaumire's Miriam, Julie Taymor's A Midsummer Night's Dream, Kristin Marting's Sounding, Young Jean Lee's LEAR, Richard Foreman's Maria del Bosco, and Richard Maxwell's Cowboys and Indians.
Funding
Touring support for Poor People's TV Room is provided by the New England Foundation for the Arts' National Dance Project, with lead funding from the Doris Duke Charitable Foundation and the Mellon Foundation and additional support from the National Endowment for the Arts.
Accessible programming for Poor People's TV Room is supported by artist/scholar Carrie Sandahl, director of Bodies of Work: A Network of Disability Art and Culture and faculty in the Department of Disability and Human Development at the University of Illinois-Chicago.