MCA Talk: Self-Portrait in a Kanye Mirror
Announcement
Please note that space for this MCA Talk is limited due to capacity; seating is first come, first served.
Images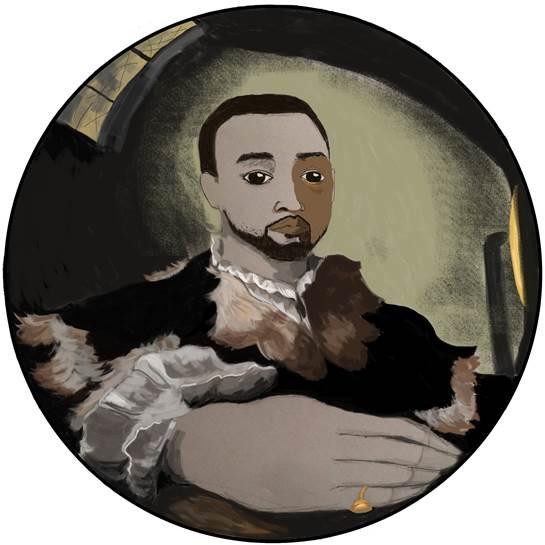 About
"If you're a Kanye West fan, you're not a fan of me, you're a fan of yourself. You will believe in yourself. I'm just the espresso."
—Kanye West, BBC Radio 1
Homeroom's School Night: Self-Portrait in a Kanye Mirror is a multimedia info show with artists and educators who assemble to reflect on the art and life of Kanye West through the lens of their own personal Yeezus. Topics include career arc, creativity, excellence, insecurity, messiness, self-love, and the quest for beauty, truth, and awesomeness. Featuring Krista Franklin, Allison Glenn, and Lisa Yun Lee with Kevin Coval, J. Johari Palacio, Anthony Stepter, and "School Night" cohosts Fred Sasaki and Seth Vanek.
Some day we will try
To do as many things as are possible
And perhaps we shall succeed at a handful
Of them, but this will not have anything
To do with what is promised today
—"Self-portrait in a Convex Mirror," John Ashbery
School Night is an informal "101 lecture" and discussion series that typically takes place on occasional Tuesday's at venues across Chicago. Experts and enthusiasts explore popular and subculture in front of a relaxed crowd.
About the Speakers
Influenced by Nikki Giovanni, Sonia Sanchez, and the writers of the Black Arts Movement, poet and visual artist Krista Franklin layers personal, pop cultural, and historical imagery, interrogating race, gender, and class through narrative. Her poetry is included in the anthologies Gathering Ground: A Reader Celebrating Cave Canem's First Decade(2006), Bum Rush the Page: A Def Poetry Jam(2001), and The Bust Guide to the New Girl Order(1999). Franklin is also a visual artist, focusing primarily on collage. In addition to being shown widely in galleries, Franklin's collages have been featured on the covers of several poetry collections, including John Murillo's Up Jumps the Boogie(2010) and Lita Hooper's Thunder in Her Voice(2010). A Cave Canem Fellow, Franklin cofounded 2nd Sun Salon and Tres Colony. She has taught for Young Chicago Authors, the Neighborhood Writing Alliance, and ETA Creative Arts. Franklin lives in Chicago.
Allison M. Glenn is a 2015 Curatorial Fellow with the City of Chicago Department of Cultural Affairs and Special Events, writer and director of Monique Meloche Gallery. Recent exhibitions include Look At Me Now!(Monique Meloche, 2015) and Queen Bee(Terrain Exhibitions, 2014). From 2013–14, Glenn was the inaugural program manager and exhibitions curator at the Arts Incubator in Washington Park, the flagship building of the University of Chicago's Arts + Public Life initiative, for which Theaster Gates is director. In this position Glenn developed the exhibitions and visiting artist programs. She also managed and developed the Artist in Residence program as well as all programs for the Arts Incubator. Her essays have been featured in publications for The Los Angeles County Museum of Art, Prospect New Orleans Biennial and The Studio Museum in Harlem. She has been published in Art21, Newcity, and FNewsmagazine, among others. Glenn received dual MA degrees in modern art history, theory and criticism/arts administration and policy from the School of the Art Institute of Chicago, and a BFA in photography with a dual-major in urban studies from Wayne State University in Detroit.
Lisa Yun Lee is the director of the School of Art & Art History for the University of Illinois Chicago, a visiting curator at the Jane Addams Hull-House Museum, and a faculty member of Art History, Museum and Exhibition Studies, and Gender and Women's Studies at the University of Illinois at Chicago. Lisa also cofounded The Public Square at the Illinois Humanities Council, an organization dedicated to creating spaces for dialogue and dissent and for reinvigorating civil society. She has published a book on Frankfurt School philosopher Theodor Adorno titled, Dialectics of the Body: Corporeality in the Philosophy of Theodor Adorno(2004), and researches and writes about museums and diversity, cultural and environmental sustainability, and spaces for fostering radically democratic practices. Lisa received her BA in religion from Bryn Mawr College, and a PhD in German studies from Duke University. She is the cochair of the Executive Committee of the Institute for Research on Race and Public Policy at UIC, and she serves on the national boards of the American Alliance of Museums, Imagining America: Artists & Scholars in Public Life, the Ms. Magazine Adviory Board, and the boards of Rebuild Foundation, the National Public Housing Museum, Young Chicago Authors, 3Arts, and the International Contemporary Ensemble.
Kevin Coval is the editor of The BreakBeat Poets: New American Poetry in the Age of Hip-Hop and is the author of Schtick, L-vis Lives!: Racemusic Poems, Everyday People, Slingshots: A Hip-Hop Poetica and the play, This is Modern Art, cowritten with Idris Goodwin. Founder of Louder Than A Bomb: The Chicago Youth Poetry Festival and artistic director of Young Chicago Authors, Coval teaches hip-hop aesthetics at the University of Illinois at Chicago, is a 4x HBO Def Poet, and has written for a wide variety of publications including CNN.com, Huffington Post, and Fake Shore Drive. The Chicago Tribune has called him "the voice of the new Chicago" and the Boston Globe says he's "the city's unofficial poet laureate." This is Modern Art is forthcoming in spring 2016 on Haymarket Books and Coval's A People's History of Chicago is due out spring 2017, also on Haymarket Books.
Anthony Stepter works at the University of Illinois at Chicago where he is both the graduate program coordinator for Museum and Exhibition Studies and the coordinator of public programs and community engagement at Gallery 400\. Anthony graduated from the School of the Art Institute of Chicago with an MA in visual and critical studies. As an independent organizer Anthony has completed curatorial projects for ACRE, Washington Park Arts Incubator, and the 2nd Floor Rear festival. He served as a juror for apexart, collaborated with the Office of Public Culture in Grand Rapids, and in 2014 cocurated Extinct Entities, a month-long performance series of commissioned art works exploring the history of Chicago-based art spaces that no longer exist. In high school he worked at a record store called Beatnics and saved up enough money to buy turntables by making instructional videos for schools and nonprofit groups.
J. Johari Palacio is a music enthusiast and tune curator who goes under the pseudonym of The Bored Enthusiast. The Enthusiast is an interdisciplinary artist who works with all types of sonic pallets (from noise to hip-hop to Brazilian jazz) to create an aural cinematic visual for the listener. Mixed-media collages, event programming, multimedia production (and deconstruction), drama performances, and creative fiction are a strong foothold within his practice. He currently has residencies at Maria's Community Bar and Harbee's Tavern and Liquors, and has guest curated at several different spaces from Chicago to London.