MCA Live: Welcome to the Neighborhood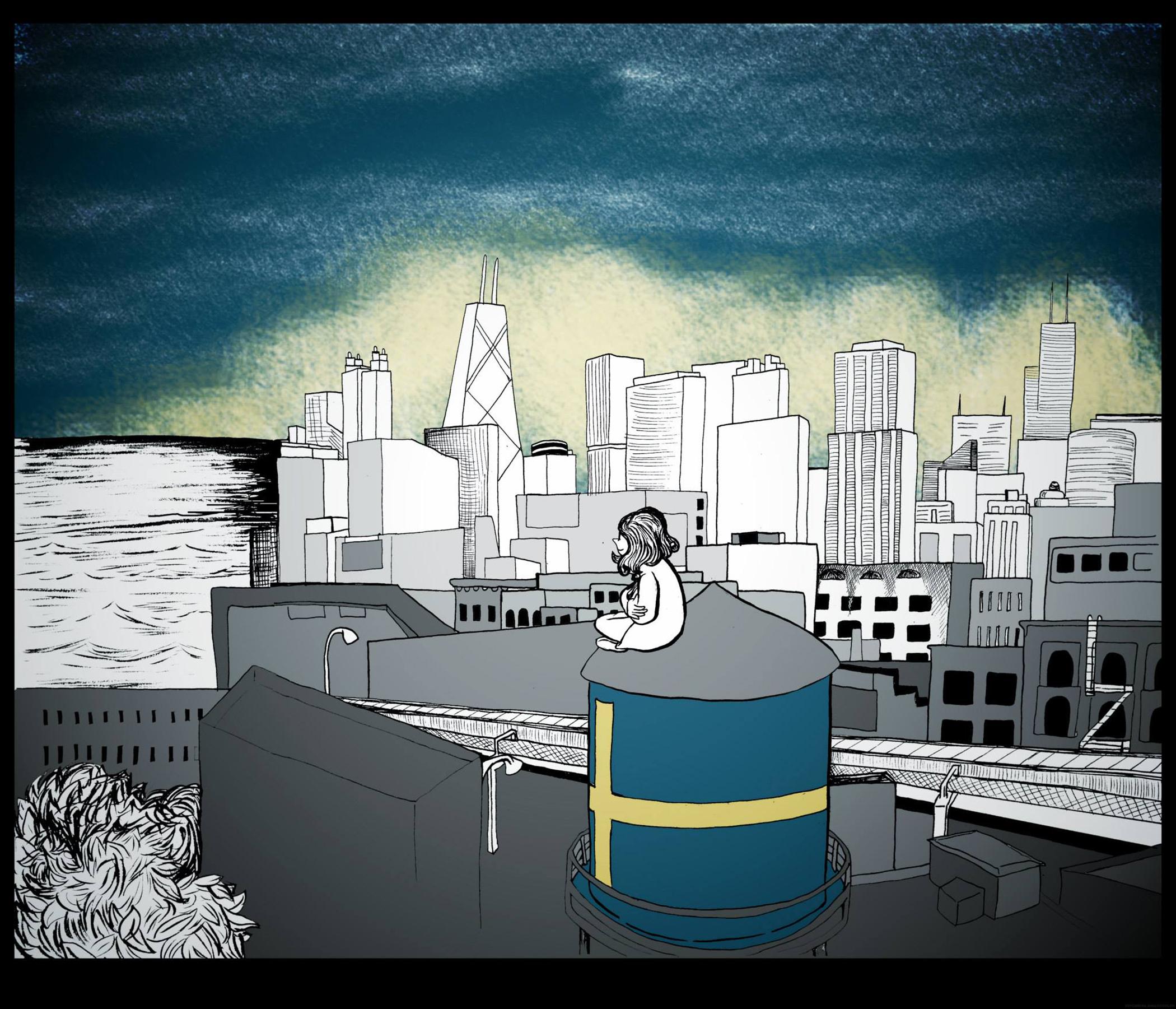 About
Anthology of Chicago and 1,001 Chicago Afternoons curate a reading of stories and poetry set in different neighborhoods across Chicago, accompanied by illustrations from local artists. Readers who are covering the city by spinning stories and spitting poetry include: author Megan Stielstra, author Elaine Hegwood Bowen, poet and hip-hop artist Psalm One, Anthology of Chicago Editor Rachel Hyman, and poet Steve Schroeder.
The readings are accompanied by original illustrations by local artists Sarah Zimmer, Camille Swift, Marine Tempels, Steven Schroeder, and Dmitry Samarov.
About the Artists
Founded in 2012 by Paul Dailing, 1,001 Chicago Afternoonsis a literary journalism project in the spirit of the 1920s Chicago Daily News column by "The Front Page" author Ben Hecht. Three times a week, the site updates with new, true stories of Chicago and Chicagoans, written in the "journalism extraordinary" style Hecht championed.
Anthology of Chicago is the literary project founded in 2013 by Rachel Hyman, which collects poems and stories that celebrate and evoke the spirit of Chicago's many neighborhoods.
Elaine Hegwood Bowen earned her undergraduate and graduate journalism degrees from Roosevelt University and has been writing for the Chicago Crusader newspaper since 1994\. She is a native South Sider and the proud parent of hip-hop artist Psalm One. "Old School Adventures from Englewood-South Side of Chicago" is her first book.
Rachel Hyman is the author of Dear S, forthcoming from Big Lucks. She is the founding editor of Anthology of Chicago and coeditor of Banango Street. Other writing has been published in The Scrambler, VECTOR, and Illuminati Girl Gang.
Psalm One, aka Hologram Kizzie, has been an innovative, philanthropic, and refreshing member of the hip-hop community for almost a decade. In addition to touring the globe and running the Chicago-based after school program Rhymeschool, she finds time to invest in new talent, run a successful biweekly Rap Karaoke party, and contribute poetry to her mother's literary works.
Dmitry Samarov was born in Moscow in 1970. He immigrated to the US with his family in 1978\. After graduating from the School of the Art Institute of Chicago in 1993, he promptly began driving a cab—first in Boston, then, after a time, in Chicago. This eventually led to the publication of his illustrated memoir Hack: Stories from a Chicago Cab(University of Chicago Press, 2011) and Where To? A Hack Memoir(Curbside Splendor, 2014). He no longer drives a cab.
Steven Schroeder is a poet and visual artist who spent many years moonlighting as a philosophy professor—most often in interdisciplinary settings, most recently at the University of Chicago Graham School. He grew up in the Texas Panhandle, where he first learned to take nothing seriously, and his poetry and visual art continue to be rooted in the experience of the Plains.
Megan Stielstra is the author of Once I Was Cool, an essay collection, and her work appears in The Best American Essays, the New York Times, the ChicagoTribune, and elsewhere. She is the literary director at 2nd Story and has told stories for NPR, the Goodman, Steppenwolf, and many, many bars.
Camille Swift spent her childhood painting, scribbling out absurd tales of fantastical adventure, climbing trees, and shooting a bow. There was a brief intermission during which she obtained a Bachelor of Arts in French and anthropology and had a "real job," but she is back on track now as a painter, trapeze artist, swordswoman, and writer.
Marine Tempels, a Belgian-born artist and illustrator, is inspired by body postures and the shapes and textures of life. Through line, contour, and thoughtful omissions of color and detail, she breathes life and mystery into her drawings. Currently, the subjects of her works stem from real-world observation as well as her imagination.
Sarah Zimmer's lifelong passion for creating has fueled her studies in entrepreneurship, art, and design at Indiana University Bloomington, the London College of Fashion, and the School of the Art Institute of Chicago. Her portfolio, while exhibiting a diverse array of subject matter, demonstrates how she uses central themes of color and playfulness to forge a connection with the viewer.