Featured image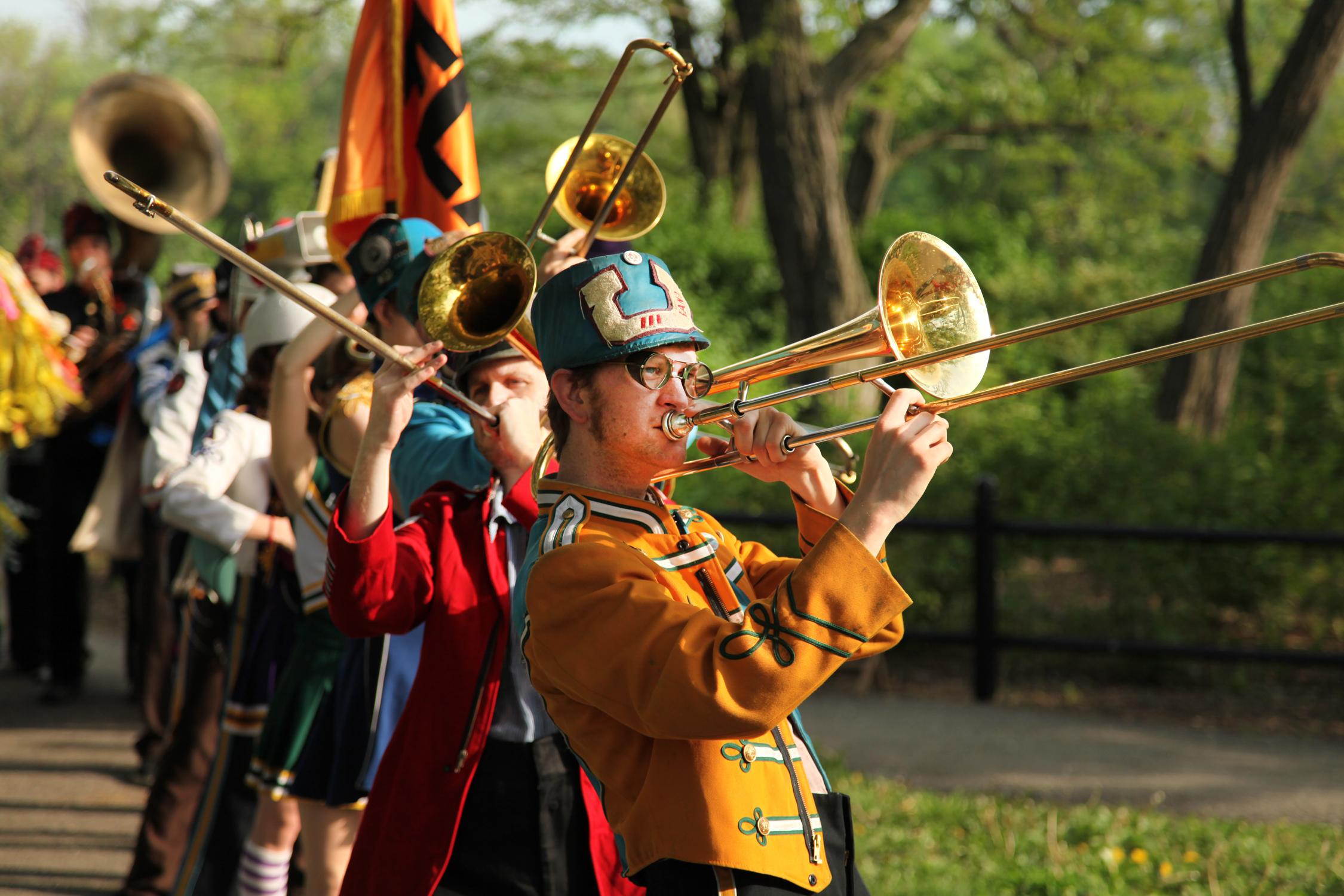 About
The MCA joins the Chicago Dancing Festival in presenting the 6th annual festival of contemporary and classic dance with two programs at the MCA and concerts at the Harris Theater, Auditorium Theatre, and the Pritzker Pavilion in Millennium Park.
Tue, Aug 21: Dancing Movies
Noon–8 pm
FREE for Illinois residents or with museum admission; no ticket required.
This day of dance films features four screenings of dance on film that highlight innovative collaborations between contemporary dance artists, filmmakers and musicians. Curated by Sarah Best.
FANFARE FOR MARCHING BAND
Noon and 5:45 pm
Saturated colors and ecstatic dance choreography shape Chicago director Danièle Wilmouth's Fanfare for Marching Band. Follow the antics of a ragtag musical militia as they embark on an inept invasion through a parallel universe where their exuberant music is out of sync and unheard by a passive public. Choreographed by Peter Carpenter with performances by the circus punk marching band Mucca Pazza, who stage musical ACTIONS for JOY at various inappropriate locations around the city of Chicago. (16 min)
FIRST POSITION
Follow in the inspirational footsteps of six talented ballet dancers (ages nine to nineteen) as they struggle to maintain form in the face of injury and personal sacrifice on their way to one of the most prestigious youth ballet competitions in the world, the Youth America Grand Prix. Directed by Bess Kargman, First Position is a feature length documentary about a love of dance and a drive to succeed that trumps money, politics and even war. (90 min)
PINA
This Academy Award nominated documentary by Director Wim Wenders pays tribute to the radical and broadly influential choreographer Pina Bausch. Created by renowned filmmaker Wim Wenders in collaboration with the ensemble of the Tanztheater Wuppertal Pina Bausch, this film succeeds in capturing the emotional intensity and unique aesthetic of some of Bausch's most famous creations. (100 min)
ALL IS NOT LOST
Noon–8 pm (on loop in lobby)
This dance "film" created for the Google Chrome internet browser, is a collaboration between Grammy award winning power pop band OK Go, Pilobolus Dance Theatre, and director Trish Sie. The band is known for its inventive music videos shot on treadmills or in the midst of elaborate Rube Goldberg-esque machines, appears here with Pilobolus dancers in pastel-colored unitards.
Fri, Aug 24: Chicago Now
FREE, reservations required
In recent years the level and quality of dance in Chicago has steadily risen. Chicago Now takes the temperature of dance in Chicago today from the point of view of choreographers and dancers. The program combines brief dances by three Chicago companies with an active discussion moderated by leading dance journalist and former dancer Zac Whittenburg. He is joined by a panel of distinguished Chicago dance leaders: Lane Alexander (Chicago Human Rhythm Project), Ron De Jesús (Ron De Jesús Dance), Carrie Hanson (The Seldoms), and Julie Nakagawa (DanceWorks Chicago). Chicago companies The Seldoms, Ron De Jesús Dance, and FootworKINGz perform.
Tickets for Chicago Now are sold out. Refer to our waiting-list procedure for more information.