Featured Images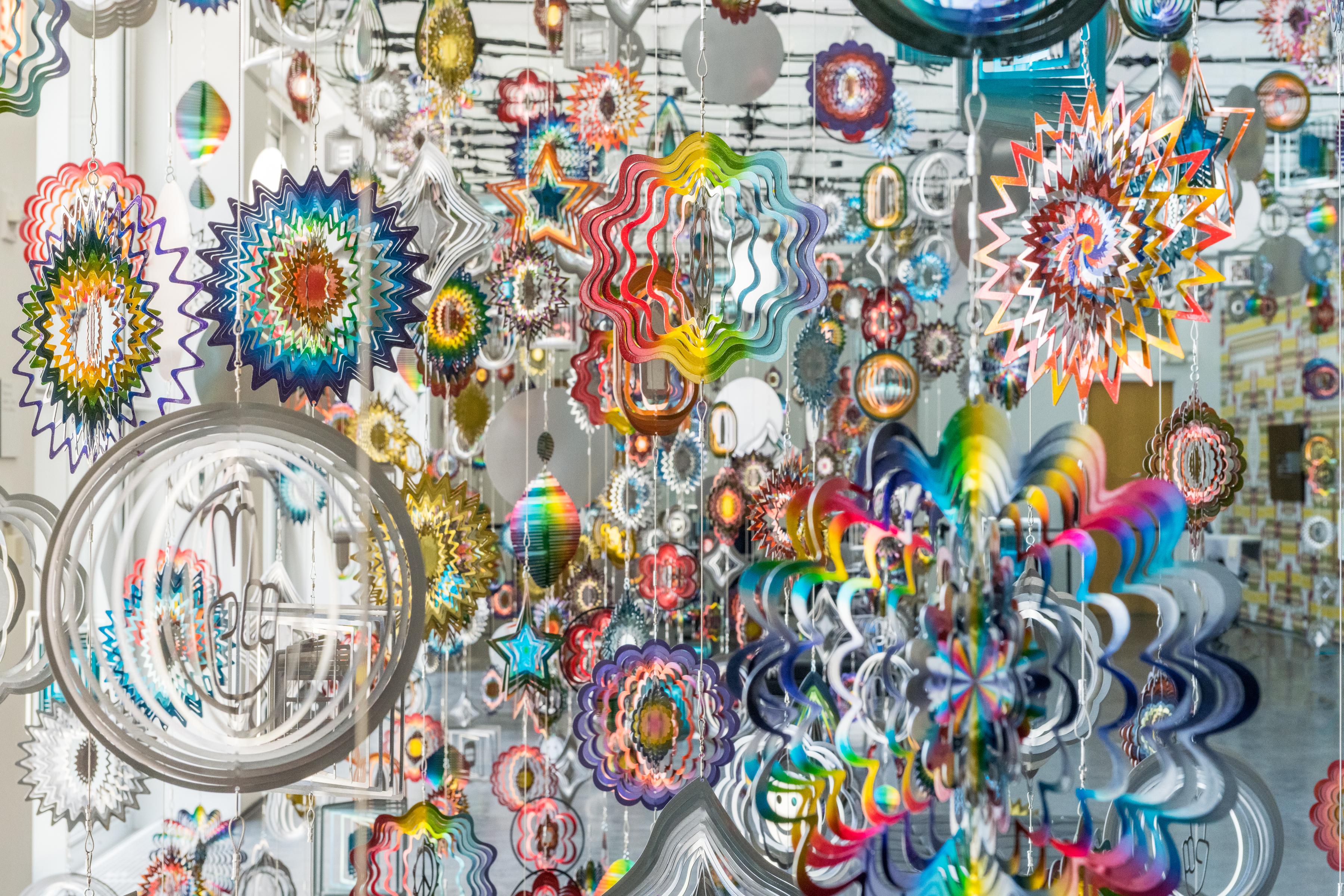 About the Exhibition
The Museum of Contemporary Art Chicago presents the first career-spanning survey of the internationally renowned Chicagoan Nick Cave (American, b. 1959), an artist celebrated for projects that blend community building with vibrant works of art across disciplines, including immersive installations, textural sculptures, impeccably crafted fashion, and dynamic videos and performances. Highlights of the exhibition include never-before-seen works, including a continuation of the artist's popular Soundsuits series with the premiere of Soundsuits 9:29 and a mesmerizing, site-specific installation, Spinner Forest, comprised of thousands of kinetic spinners that hang in the museum's two-story atrium and fourth-floor lobby.
Cave came to prominence as a visual artist almost twenty years ago with his dazzling, sculptural Soundsuits, and works in Chicago as an activist, educator, designer, and performer. Nick Cave: Forothermore gathers all of these aspects of Cave's work into the artist's largest museum survey to date. This immersive journey through Cave's distinct bodies of work is accompanied by an exhibition catalogue designed with Cave's partner, Bob Faust.
Nick Cave: Forothermore is an ode to those who, whether due to racism, homophobia, or other forms of bigotry, live their lives as the "other"—and a celebration of the way art, music, fashion, and performance can help us envision a more just future.
The exhibition is curated by Naomi Beckwith, former Manilow Senior Curator. It is presented in the Griffin Galleries of Contemporary Art on the museum's fourth floor.
Installation Images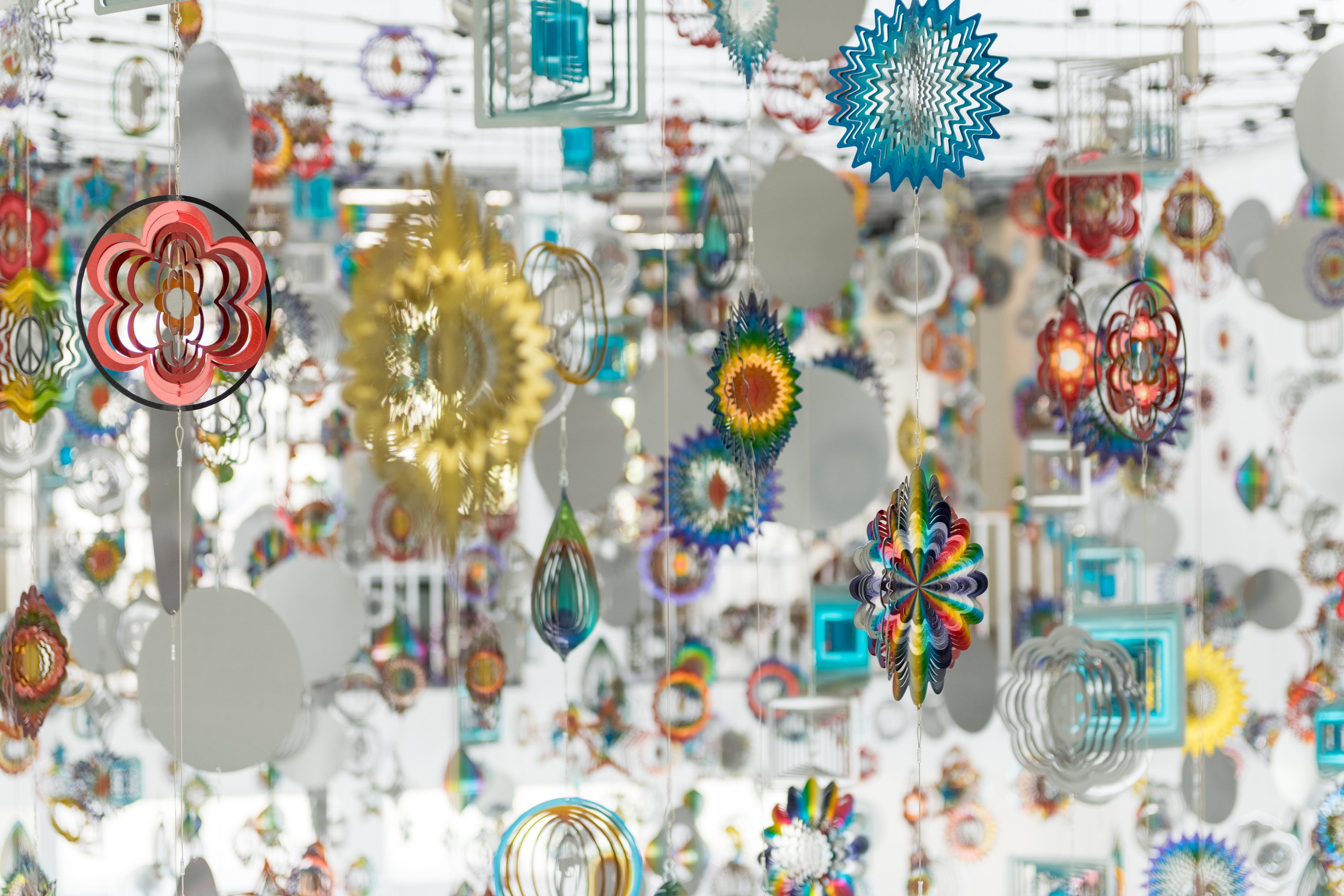 Additional Media
Nick Cave: Forothermore Exhibition Video
Video Gallery
Audio Transcripts
Spinner Forest, 2020

[METAL PIECES TINKLING]

This is a spinner. It's a lawn ornament that you would actually find in your backyard. The material is metal. So it's a hard material. It feels a very cold when you touch it. But it's metal that has been treated where it has a rainbow sort of effect to it. So it's shiny. And then they are cut in a way that you can pull them apart where they become more dimensional.

The Spinner Forest really actually looks like a forest. It's spinners that are strung on a metal cable. And then they have a little subtle motor at the top so they are all spinning, and it just sort of creates this amazing, reflective sort of sparkly sort of effect.

The imagery in the wind spinners are guns, bullets, teardrops. So I was sort of interested in talking about the crime and the gun violence that we think is located somewhere else. It's really right in our backyard.
Tondo, 2021

[METAL RUSTLING]

To touch the surface, it feels like porcupine quills. The tondos are constructed of hard work cloth, which is the ground cloth that we work on, which is metal. It's almost like a metal fabric. It appears to look like it's fur from a distance. But it's very hard. It's very cold. But it's very sort of beautiful, and it's thousands and thousands of wire and bugle beads all strung on this ground cloth in rows. It's very sort of visceral in terms of the surface, very tactile. The sound is—if you were to rub your hand across a hairbrush. So it makes a kind of a bristle sort of sound.

A Tondo is me looking at these brain scans of inner-city youth that live in extreme violent zones, and the trauma that comes from that, and pairing that with extreme weather patterns—colliding these two forces together. And it's round, so I'm thinking more from a universal sort of perspective that this is the world.

When you get close to look at it, you really can't believe that it's hard because it's shiny. It's reflective. So you can't touch it. But you just want to sort of touch it just—there's a feeling of wanting to have this connection with it because of its seduction in terms of the way in which the surface is sort of handled and the movement that's built within the piece.
Soundsuit, 2011

[TWIGS RUSTLING]

When I did my first Soundsuit, it was made from twigs that I collected in the park. I was sitting on a bench, and I looked down, and I don't know why, I just started collecting the twigs. And before I knew it, I was building this sort of sculpture.

From a distance, it looks like it could be fur, or it could be soft. But when you get up close, it's made up of thousands of twigs. When you wear this particular Soundsuit, it makes this amazing sort of rustling sort of sound. It's almost as if you are sort of—imagine sort of running through the forest, and you're running over twigs and leaves during the fall. And so it's that kind of rustling sort of earthy sort of sound that it makes.

But it was really that twig, sort of this discarded object, really became this way of adorning and embellishing my sort of body, in terms of—in building this sort of protective sort of shield around it. And so that became this sort of beginning of this new way of sort of thinking about building work. I think for the most part, most of my work is always is built from, really, one sort of small sort of object that is multiplied by thousands.
Beaded Cliff Wall, 2016

[BEADS CLUNKING]

Working with beads and shoelaces, it's really interesting, because you have thousands of beads that are in a sort of a container. And then you're just stringing them onto the shoelaces. And so as you're stringing them you're building these sort of strands of color and then you're knotting. And so before you know it, you've created this interesting sort of web of color and pattern.

I've always been interested in sort of through my work building a cloth. And so my work has always been built of sort of multiples of materials to build something. And so I was very interested in this overlay going over the top of this painted mural. So this sort of sets the mural back and then creates this sort of texture sort of wall relief that's on the stands in front of it.

Pony beads and shoelaces are knotted creating this web sort of effect that is then made into this extremely large sort of tarp or cloth. And it's made up of different colors pony beads from gold, silver, to red, pink, green, really all of the colors in the rainbow.
Hustle Coat, 2021

[CHAINS CLANKING]

It's almost as if you were walking down the street and you were flashing someone, meaning if you—someone came up to you and you opened your coat and you had items for sale.

The hustle coat is really a trench coat, which is made out of cotton. It's double breasted. It has a belt. But inside of the coat it also has a lining. And this lining is covered in jewels. Just imagine—necklaces, chains, watches, jewelry, stones, are all sewn by hand into this lining of the coat, making it appear to be this jewel box.

It's very sort of bright and glitter, it sparkles. It's sort of seductive, based on the materiality of the work. The sound is—just imagine going through your jewelry box and you're looking for a certain ring. And it's just this sound of metal clanging and clashing up against itself, but extremely heavy.

The weight of this coat is extremely heavy. Why costume jewelry versus real jewelry? Well, it's all real jewelry. For me, when I was a young kid on my first trip to Chicago, I was with my uncle, and a guy came up, opened his coat, and had all of these gold chains hanging inside of his coat and was trying to sell them.

And so that to me was like magic. But also, the hustle code is really sort of talking about class and excess and surplus, and thinking about, as an artist, getting your hustle on, and what that demands, what that looks like, what that means. And it's also about commerce and selling and this sort of consumption of consumerism, in a sense.
Untitled, 2018

[WOOD CLUNKING]

I was interested in collecting as many carved wooden heads of Black people that I could find. And so that's what I did. I would just sort of shop on eBay, Etsy, or out antiquing. And I would just find these amazing sort of wooden bust or heads of people of color.

And so when I get these pieces in the mail, and, you know, I take them out of the box and open them up, they fit into the palm of your hand. It's all sorts of woods. They're cold. Some are sort of smooth, some are rough, depending on how they're carved.

But they have this amazing sort of weight to them, which is interesting, and all different types of facial expressions. The sound that I relate to is Dominos—thinking about wood blocks, building blocks, and touching and falling on themselves. And there's this sort of connection with them all, because they all are touching in some way. They're bringing a sense of comfort.

I was interested in incorporating those with the Bald Eagle, and thinking about "land of the free, home of the brave" and wanted to sort of put that all together and create this sculpture where all of these heads were laying on top of a table with this eagle that is piercing down on them as if it's going to attack.

So was thinking about who's at the table, and how decisions have been made on the back of people of color. And so that was really sort of how this piece started to find its sort of language and history.