Based on a True Story . . .
About the Exhibition
In Based on a True Story . . ., 20 artists play with fact, fiction, and the grey areas in between. Drawn primarily from the MCA Collection, their artworks wrestle with our understanding of truth and belief by exploring fiction: Some artists craft an identity or personal memoir. Others stage complex urban landscapes that confuse our perception of the world. Still others challenge the way the past is portrayed by historians and institutions like museums. Based on a True Story . . . invites visitors to question how we see truth—and how fiction can help us imagine new realities.
The exhibition is curated by Bana Kattan, Pamela Alper Associate Curator, with Iris Colburn, Curatorial Assistant. It is presented in the Bergman Family Gallery on the museum's second floor.
Lead support for Based on a True Story . . . is provided by The Pritzker Traubert Collection Exhibition Fund.
Featured Images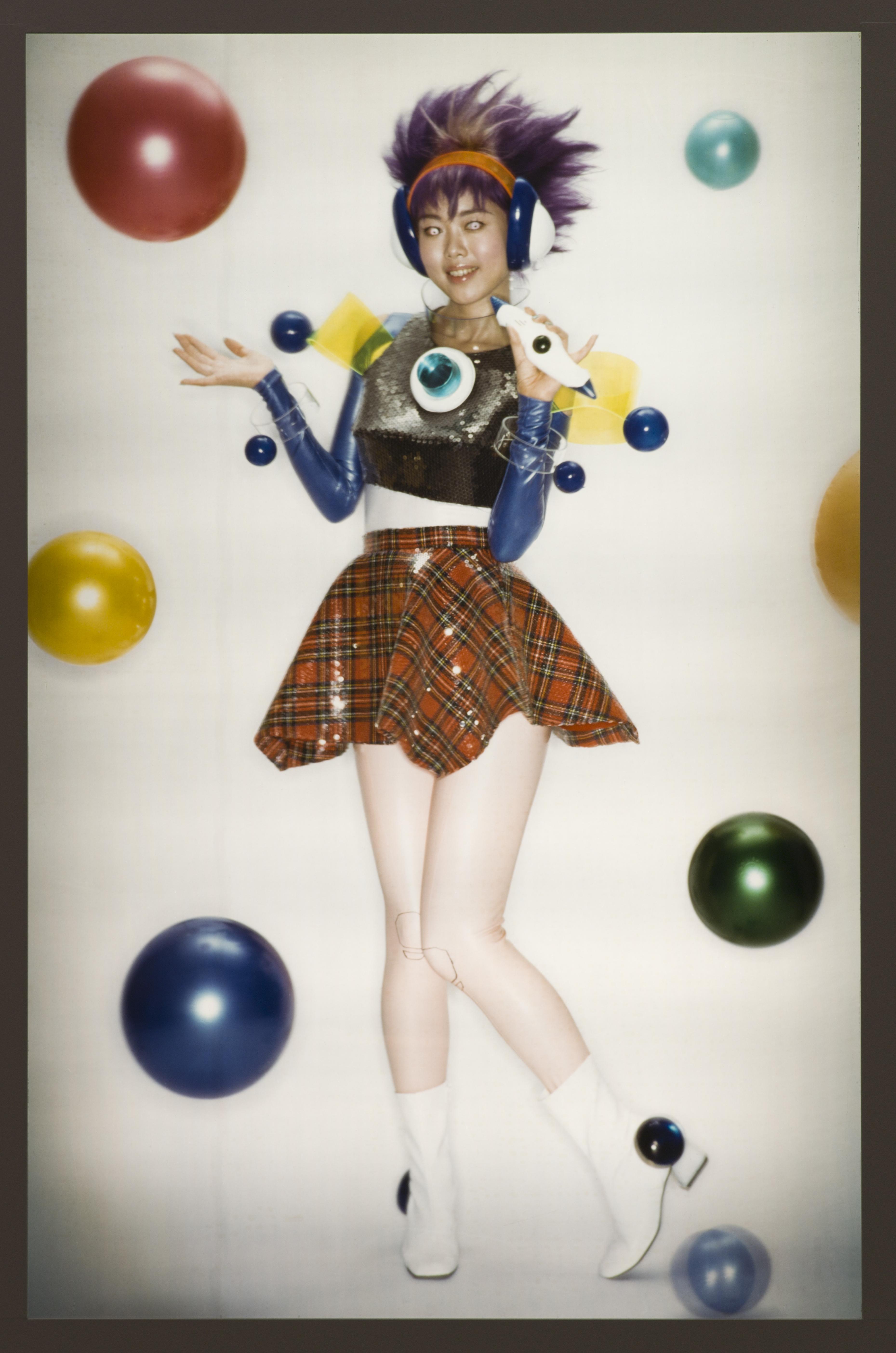 Artists in the Exhibition
Celia Álvarez Muñoz
(American, b. 1937)
Yto Barrada
(Moroccan, b. 1971)
Matthew Barney
(American, b. 1967)**
Mark Dion
(American, b. 1961)
Sharon Lockhart
(American, b. 1964)
Rodney Graham
(Canadian, b. 1949)
James Luna
(Payómkawichum, Ipi, and Mexican-American, 1950–2018)
Rashid Johnson
(American, b. 1977)**
Mariko Mori
(Japanese, b. 1967)
Claes Oldenburg
(American, b. Sweden, 1929)
Walid Raad
(Lebanese, b. 1967)
Michael Rakowitz
(Iraqi-American, b. 1973)
Wendy Red Star
(Apsáalooke, b. 1981)
Cindy Sherman
(American, b. 1954)
Lorna Simpson
(American, b. 1960)
Laurie Simmons
(American, b. 1949)link
Ruth Thorne-Thomsen
(American, b. 1943)
Salman Toor
(Pakistani, b. 1983)
Jeff Wall
(Canadian, b. 1946)
Gilliam Wearing
(British, b. 1963)
On view – March 15
On view March 17 – August 14
Transcripts
Take a Picture with a Real Indian, 1993. Performance documentation (color, sound)

[TEST TONE]

[SHRILL RATTLING]

[CHATTER]

JAMES LUNA: Take a picture with a real Indian. Take a picture with a real Indian right here in Salina, Kansas. Take a picture with a real Indian. Take two. Take one. Leave one. Take a picture with a real Indian here.

[CLICKS]

They're real-life experiences. Traveling across the Navajo reservation and seeing some Indians on the highway wearing, kind of, garb, waving cars in. And so people would slow down and look at the Indians and say, "Whoa, look, there's some Indians there." And click, click, click, and stop or go on.

[RATTLES]

Take a picture with a real Indian. Take a picture here in Salina, Kansas, with a real Indian here tonight, free. You get to take two. You take one home, and you leave one. Take a picture with a real Indian here in the middle of America. America likes to say, "her Indians." Come on. Take a picture with a real Indian.

[CHATTER]

[CLICK]

[WHIR]

WOMAN: Anyone else? Next person, come on up. Take your picture.

[CHATTER]

[CLICK]

AUDIENCE: Yeah, yeah. It would be like—

JAMES LUNA: Another persona that other people, other artists, that were telling me said, "You should have seen the audience that didn't go up there. Because it formed, like, debate groups, conversation. People were debating whether they should or shouldn't."

Or look at these other people, sitting aside, away from them. So that's what I want to see, and that's what I'll look for tonight, without trying to break my persona. Because I wasn't conscious of that before.

AUDIENCE: So we had a lot of discussion. And we decided we'd go ahead and do it and think about it later, whether or not it's politically correct.

AUDIENCE: Space was a really—

[CHATTER]

[CLICK]

JAMES LUNA: Everything will be revealed. I hadn't thought about it as, sort of, much entrapment as I was thinking about some things and not intimidating people. So I would get people to take a picture with me. And so we'll see now that I'm just a normal guy.

Take a picture with a real Indian. Take a picture with a real Indian here in Salina, Kansas, here on this February night. You get to take two. You leave one. You take one home. Take a picture with a real Indian.

WOMAN: OK. You were next. Go on.

[CHATTER]

[LAUGHTER]

MAN: Didn't you smile?

AUDIENCE: I didn't smile, and I didn't look at the camera. I don't believe in that.

AUDIENCE: If we spend all day in the car, driving across the Kansas prairies so I can get our picture taken, rather than— we just walked two blocks down the street here.

AUDIENCE: I think it brings about a very important issue, which is when we turn ourselves into commodities, what happens, and how we're both a part of the process, as— ooh.

JAMES LUNA: America likes to say "her Indians." America likes to name cars and trucks after our tribes. America likes to name film festivals after our sacred dances.

[RATTLES]

America likes our casinos. America doesn't like our casinos. America doesn't like us in poverty. America doesn't like us wealthy. Take a picture with a real Indian tonight, free, right here in downtown Salina, Kansas.

[CHATTER]

The spoken-word piece is changing. And it's kind of upped the ante, so to speak. And so now I'll come in to the Indians that everybody likes.

[CHATTER]

[LIGHT JANGLING]

Take a picture with a real Indian. Take two pictures. Leave one. Take one home for your mantle. America likes to say "her Indians." America likes our feathers. America likes to see us dance with them. America likes our arts and crafts.

Take a picture with a real Indian. This is your last chance. Here in Salina, Kansas, in the middle of America.

[CHATTER]

AUDIENCE: Like, how do we put other people in position of objects, how we objectify other people and particularly other cultures. And we don't realize of that factor so much when we buy objects. But we do now that we are dealing with a real person. That comes to the forefront more.

AUDIENCE: Well, it was so disconcerting to stand there beside him. He seemed— he was so inert and so unreal, in lots of ways— statuesque. But I could smell the leather. Don't you think that's the way real Indians smell, with leather? What did you think?

[CLICK]

[WHIR]

[CLICK]

[WHIR]

Take a picture with a real Indian. Take a picture tonight in Salina, Kansas. America likes romance more than they like the truth. Take a picture with a real Indian in Pine Ridge, South Dakota.

Take a picture with a real Indian in Tesuque Pueblo in Mexico. Take a picture on skid row in Oklahoma City with a Kiowa. Come to the Indian hospital in Washington state. Come to the res. Come to the city. We're all over. We're all over. Take a picture with a real Indian.

[LIGHT JANGLING]

[RATTLING]

Take a picture with a real Indian. Take a picture with a real Indian tonight, here in Salina, Kansas. Take a picture with a real Indian. Take two. Take one. Leave one. Take a picture with a real Indian here, right here tonight. Mm.

[RATTLING]